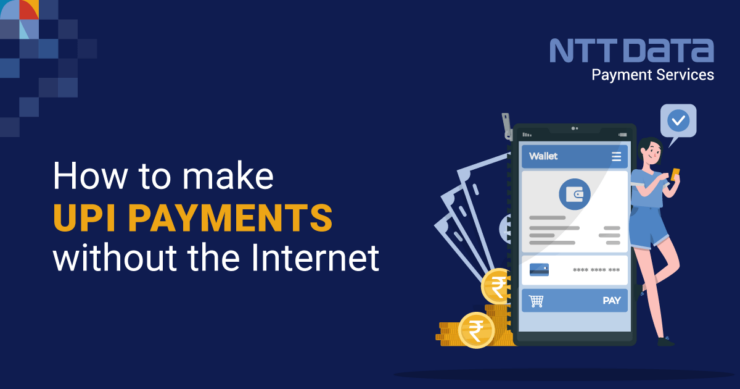 The introduction of UPI in India has altered how phone users perceive payments. Due to that, you no longer need to carry cash anywhere, including restaurants, malls, clinics, motels, gas pumps, and more.
From businesses that have integrated UPI payment gateway in their e-commerce websites to customers who depend on UPI platforms even for paying an auto driver, digital payment modes like UPI have come a long way.
Though they have become widely popular even in tier 2 cities, UPI transactions mainly depend on a stable internet connection. 
However, using the internet for transactions frequently puts us in challenging situations because of slow or 2G network reception. But guess what, there's an easy solution to this! Not many of us know you can also make UPI payments without any internet connection. All you have to do is dial the USSD code *99# and get it done!
All About NPCI's USSD Code *99#
NPCI (National Payments Corporation of India) and its member banks introduced the Unified Payments Interface (UPI) on Aug 25th, 2016.  Using a unique ID called a UPI ID or payment address, UPI enabled account holders from different banks to send and receive money. 
UPI was launched to reduce payment delays and make the payment process easier and smoother for everyone, as the feature is available and accessible round the clock, 24/7, throughout the year.
With UPI, users have the option of creating their own UPI ID. In addition to UPI ID, users can send money using the standard financial address, which is Account number + IFSC.
UPI was originally conceptualized as a mobile application-based solution primarily catering to internet-compatible phones (smartphone users). However, UPI is now available for non-internet-based mobile devices or feature phones as well,  as a dialing option (*99#), known as USSD 2.0.
NPCI first introduced its *99# USSD-based mobile banking service in November 2012. But at that time, the reach was limited, and only a few providers offered the service.
The *99# service has been re-introduced to bring banking services to the common man nationwide. By dialing *99# on their mobile phone, banking customers can now use this service and conduct offline transactions through an interactive menu.
The *99# service is currently provided by all GSM service providers and 83 major banks. It is available in 13 different languages, including Hindi and English.
How to Set Up your Offline UPI Account
Before making an offline UPI payment, you first need to set up your account on your phone to enable the feature. 
Here's a step-by-step process on how to do it
Firstly, open your mobile phone and dial *99#. You need to make a call to this USSD code to enable the feature of offline UPI payments. 
To note: Remember to make this call from the phone number that is linked to your bank account. This service won't work if you try to operate it from any other phone number. 
Immediately after, you will be asked to select your preferred language from the list of 13 languages. You can choose the one most comfortable for you.
After this, you will be asked to enter your bank IFSC code. Enter it in the space given.
Once your bank has been identified, all the bank accounts linked to your phone number (assuming you are using the number registered with your bank) will be displayed. You can simply enter '1' or '2' to choose the account you want to use.
For the final step,  enter your 6-digit card number and expiry date for verification.
Once all these steps are completed successfully, your offline UPI payment feature will now be activated automatically. You can simply dial *99# and use the feature.
How to make UPI Payments Without the Internet
While online payments are convenient and make our lives easier on many occasions,  there are also many disadvantages of online payments, like security breaches, payment delays, poor internet connectivity, and more. 
Due to this and many other factors at play, the government decided to make UPI payments offline – making them available even to the common man.
Here's how you can do it
Firstly, dial *99# on your mobile phone from the phone number registered to your bank account.
Once that is done, a menu will appear with all the options available for you. These are the options you will see:
Send Money
Request Money
Check Balance
My Profile
Pending Request
Transactions
UPI Pin
You can select the option of your choice. For now, we would select '1'  i.e., to send money.
Now, enter the UPI ID for which you wish to make the payment. If your bank account number and phone number are linked, you can even use those.
Next, you will be asked to enter the amount you want to send. Tap send once it's done.
The software will ask you to enter your UPI PIN to verify the payment. Once you have typed in the right PIN, the payment will automatically go through.
That's it, your offline UPI transaction has been completed successfully!
Note: You can also disable offline UPI services by dialing *99# from your registered phone number and following its instructions.
Make Payments Simple with NTT DATA Payment Services
Online payments in India are not a new concept. But after the pandemic, the need and importance of these online payment methods have only increased. Contactless payment methods such as UPI, mobile wallets, and card payments have grown tremendously.
NTT DATA Payment Services offers a complete payment solution to advance both your offline and online businesses. From online payment gateway and POS machine to IVR payments and Bharat QR Scan and Pay, we ensure maximum comfort, convenience, and safety for all your payments.
Conclusion 
So, this was our step-by-step guide on how to make UPI payments without an internet connection. 
The guide also explained how first to enable the service before you can proceed to make the transactions. When using this service, you can transfer up to INR 5,000 per transaction as your maximum limit and will be charged INR 0.50 per transaction.
While online payments have a lot of scope and usage in this technology-driven world, there are also multiple reasons why online payments fail. As much as technology grows and paves the way to easier payment solutions, security and compliance issues also increase with it.
So considering factors like security or poor internet connection faced by people, offline UPI payments seem to be a better and much more convenient option!
FAQs
1. Can UPI be activated without internet banking?
Yes, UPI payments can be activated without the internet. To send money, dial *99# on your phone and enter 1. Select your preferred method and enter the recipient's UPI ID, phone number, or bank account number. Next, enter your UPI PIN along with the amount.
2. Does GPAY work without the internet?
Yes, GPAY transactions can be done without the internet. However, you can only make a limited number of transactions (only purchases) offline. But once you've connected your device to the Internet, the number of available offline transactions will be reset.
3. Is net banking necessary for GPAY?
Yes, it is. You must have a bank account and have your current mobile number linked to that account to open a GPay account. A debit or ATM card should also be present.
4. How can I use UPI Lite without the internet?
You won't need an internet connection to use UPI Lite because all debit transactions under Rs. 200 can be done offline. However, you will need internet access for credit transactions.
5. Which is the safest transaction app?
There are multiple UPI apps available in the market for your specific needs. But if you're looking for a secure and smooth online payment gateway in India to conduct transactions, NTT DATA Payment Services can be a good option.