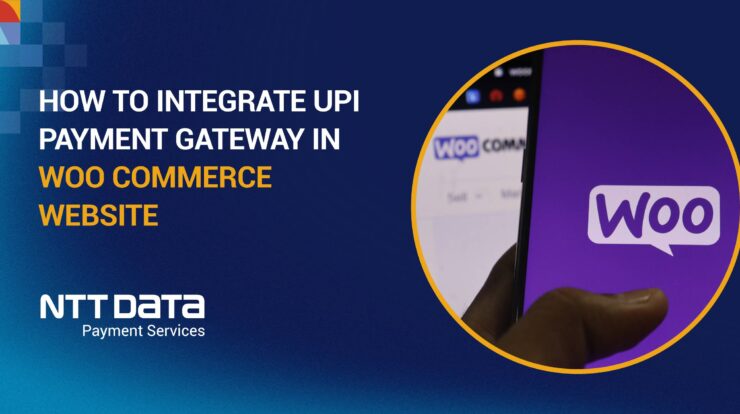 Online businesses are growing significantly. There are numerous small online businesses taking their course in the market. Woo-commerce websites are an easy way to set up an online store. Online businesses set up through woo-commerce have a great demand to boost their sales. One of the best ways to grow your business and boost sales is to offer easy and secure payment solutions to customers. As UPI payments are popularly sought out by numerous merchants and customers to enable a secure transaction, it is time that you integrate a good UPI payment gateway into your woo-commerce website as well. This blog will elucidate how to integrate a UPI payment gateway into the woo-commerce website.
What is UPI Payment Gateway?
UPI is also called Unified Payment Interface. UPI is a payment gateway system that aids an instant and smooth transfer of funds from one account to another. This real-time payment system was developed by the National Payment Corporation of India, which aids all digital payments. UPI facilitates the transfer of money on a 24×7 basis.
What is a woo-commerce website?
A Woo-commerce website is nothing but a WordPress website converted into an eCommerce store by making use of the woo-commerce plugin. A woo-commerce is an open-source e-commerce plugin. The woo-commerce website is suitable for small-scale online businesses.
A woo-commerce website can have all the functionalities like searching and viewing the products, adding to the cart and checkout. A woo-commerce website enables smooth payment with the right payment integration system and shipment management. Woo-commerce is an affordable affair and is free to set up.
Why do we need UPI Payment Gateway for a woo commerce website?
UPI payments have revolutionized the way online businesses carry out sales. UPI payments enable a quick, instant and easy way to process payments, and this is one of the best ways to enable your customers to indulge in a safe and secure payment of their choice.
Since UPI payments are quick and easy to carry out, they are the cause for impulse shopping and purchases. There is no doubt that impulse shopping is where any online store gets an edge to boost its revenue.
How to integrate UPI Payment Gateway into a woo-commerce website?
The following are the steps for WooCommerce installation for both Seamless and Non-Seamless platforms:
1. Install WooCommerce to get started
The first step to integrating a payment gateway in a woo-commerce website is to install the WooCommerce plugin on your WordPress website. Here's how you can do it:
Go to the WordPress dashboard; go to Plugins > Add New > Search Plugins
Now search for "WooCommerce" in the search bar
Click the "install now" button next to it
After the installation is complete, click "activate", and you are done
2. Visit NTT DATA Payment Services website to download our WooCommerce kit
The next step is to download the WooCommerce kit from our website. To do that, you can visit the NTT DATA Payment Services website and log in with your Merchant Console ID. From there, go to the "Payment Gateway" page and download our WooCommerce kit, which will be downloaded in a zip file.
NTT DATA Payments provides a hassle-free online payment gateway integration with user-friendly APIs that can easily integrate with any mobile app, website, or e-commerce platform.
Let's see how we can connect an online payment gateway with woo-commerce website
A. Add the downloaded WooCommerce plugin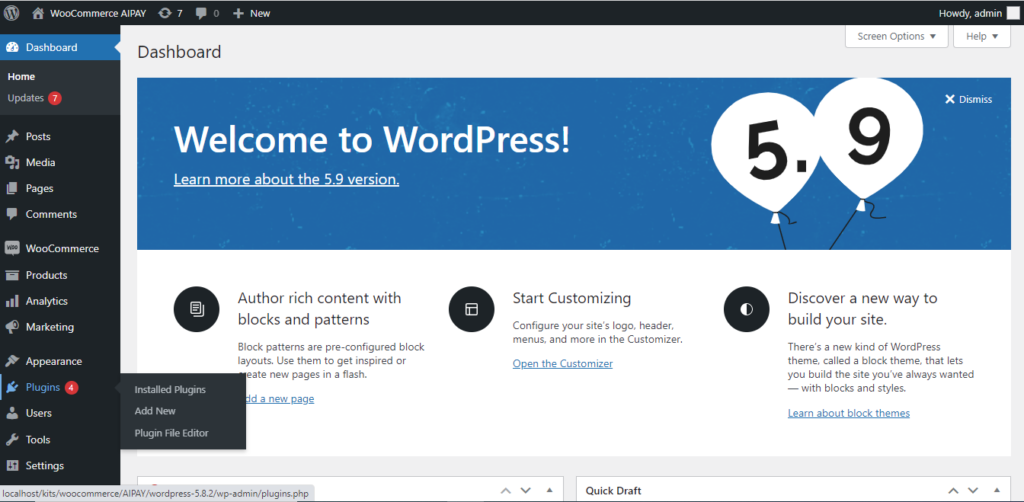 After you have downloaded the API key (WooCommerce kit) from our website, it is time to add it to your WordPress website. Go to your WordPress dashboard, click "Plugins" from the menu on your left, and click "Add New".
B. Upload NTT DATA Payment Services WooCommerce kit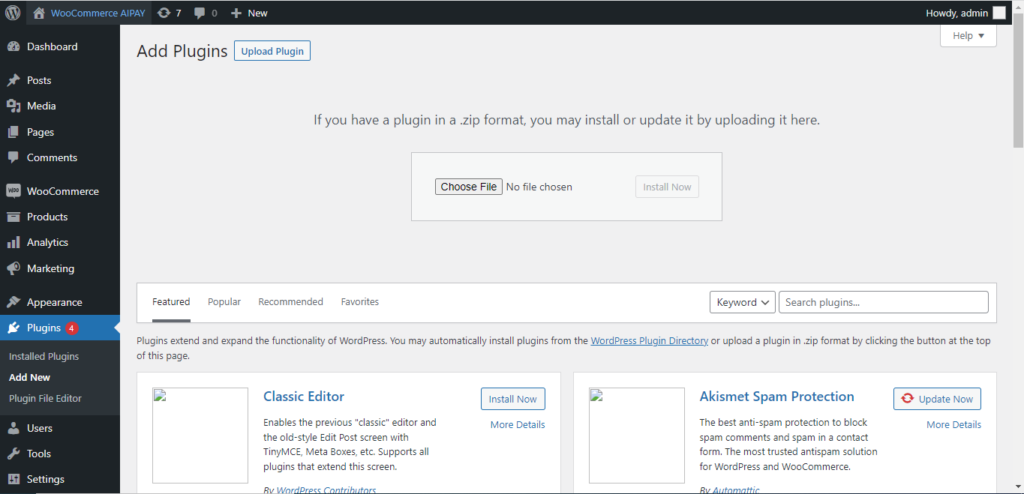 Now that you have clicked "Add New" in the previous step, you should now upload the downloaded WooCommerce kit by clicking "Choose file" (as shown in the image). Your kit must be in a zip format,
Once you have uploaded the zip file, wait for the installation to be complete.
C. Change WooCommerce settings to integrate UPI payment
In the menu on the left, you can find the "WooCommerce" tab. Click on it to proceed. Once you click "WooCommerce", a page appears with different tabs, as shown above in the screenshot.
D. Go to the "Payments" tab
From the many tabs seen above, click on the "Payments" tab to integrate the payment gateway into the woo-commerce website.
E. Setting up the UPI payment method
As you can see, there are many methods of payment available for your e-commerce website. From those, click the "Manage" button next to Online Payment since that is what we are working on.
F. Fill in the fields with all the required data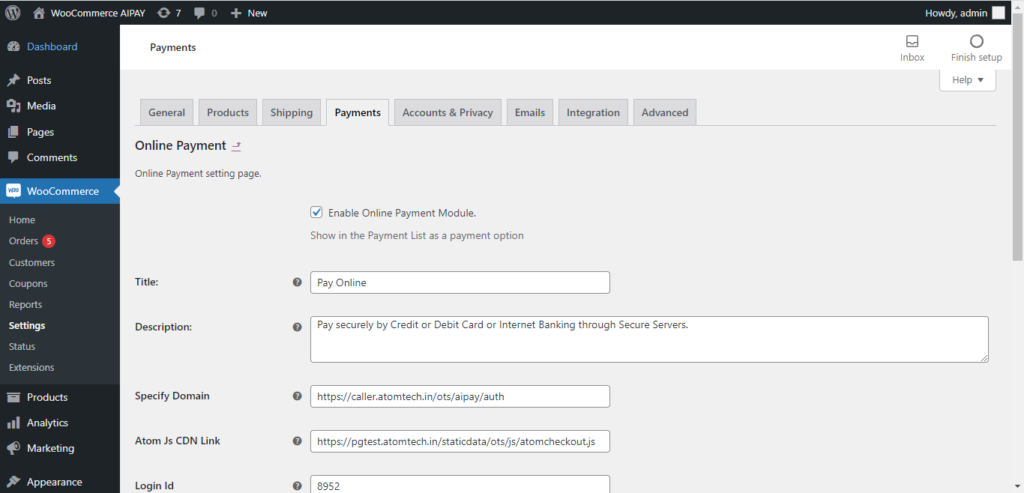 Once you click "Manage", a new page opens within the Payments tab. As you can see in the image above, you can fill in the information you think is necessary. Some fields are already filled, but you have the liberty to make changes to them. A very important step in this process is to enter your UPI VPA ID.
If you keep scrolling down, you can see "Merchant UPI VPA ID". Make sure to enter your UPI ID in that field before you hit "Save Changes". If you don't know what your UPI ID is, you can find it on your UPI App like Google Pay, PhonePe or BHIM, etc. For example, in Google Pay, the UPI VPA ID looks like: yourname@okbankname.
After entering your UPI VPA ID, scroll down and click "Save Changes".
3. Test NTT DATAPayment Services UPI payment option to ensure seamless payment on your website
You have reached the final step of the process to integrate the payment gateway into the woo-commerce website. After you have completed all the above steps, go back to your e-commerce website to check if the UPI Payment option is working on the checkout page.
Congratulations on successfully installing UPI Payment Gateway on your e-commerce website!
Conclusion
Digital payments have become a very common method of payment globally. Since the day UPI payments were introduced, people have shifted to it due to the sheer simplicity of its working. If you own an e-commerce website, you must have a UPI payment option for customers to place orders with you. Though it might be a bit too technical, it is not that hard to integrate UPI Payment into your website. We hope this article helped you understand how it is done.