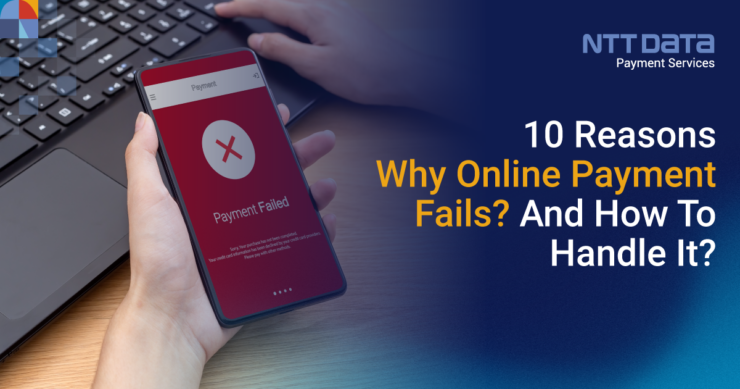 Digital payments are becoming a mainstream platform for processing payments.
This problem shouldn't be disregarded by a merchant who accepts online payments or runs an eCommerce store because it could result in cart abandonment, which could cost you a customer and income. 
However, occasionally a problem with the payment system causes the transaction to fail. When that occurs, customers are likely to leave their shopping carts empty and switch to another website where they won't experience any issues.
In actuality, 62% of customers who encounter a botched online transaction won't visit the same website again.
Seven Players Are Involved In The Online Payment Process 
The cardholder
The merchant
Card scheme/network rails, used by the acquirer to move funds from the card to the merchant
The issuing bank (the cardholder's bank)
A gateway through which the transaction from the merchant to the processor occurs
A processor that sends the merchant their money at the end of the payment flow
An acquirer that collects the money for the merchant
Here Are Some Other Common Reasons For Payment Failure
Consumers prefer online payment methods as they are convenient and flexible. Most of the time, they leave a website due to several reasons for a payment failure
Misconfiguration of payment gateway
The merchant account had blocked the transaction
The payment gateway does not support the online payment method chosen by the customer.
If the bank flags the customer's account.
Cancelled debit/credit cards 
Invalid billing address 
Signature validation failed or incorrect OTP or password 
If the account through which the transaction is initiated is closed or suspended.
The transaction will be unsuccessful if any one of the components or participants fails. Customers will likely abandon their shopping carts and stop doing business with a particular online retailer when payments are declined.
 

 

View this post on Instagram

 
10 Reasons Why Online Payment Fails
Broadly, the two most common payment failures that occur are as follows
Both the customer's and the merchant's sides of the transaction failed to pay.
Failure to pay can occur both when the amount is charged and when it is not.
1. Deemed As An Inauthentic Transaction
Permission to complete the transaction will be denied if the issuing bank or acquirer believes the intended transaction is not genuine in light of the customer's prior charge history. Many banks adhere to the procedures; thus, it is crucial to carry them out correctly.
2. Location
Banks and acquirers may also reject a charge if a customer attempts to pay from abroad. Additionally, not all credit cards accept charges internationally. It is one of the common reasons for a payment failure that can make customers leave the website or the shopping cart. Choosing payment gateways that offer customers flexible payment options and convenience is vital. Customers may see a higher rate of decline if they use credit cards issued in a nation other than the one where their account is registered. Your consumers should contact their issuing bank to authorize the charge to remedy this issue as quickly as possible.
3. Downtime/ Maintenance Issues
Entities like acquiring banks, issuer banks, payment gateways, payment processors, etc., are involved in online payment processing. These entities experience scheduled or unscheduled downtime on their own. 
The server cannot reach any of the aforementioned parties if they are offline, so it is unable to obtain their consent for the transaction. It may result in failed online transactions. Payment gateways, processors and issuing banks can experience delays when maintaining or updating their websites. 
 

 

View this post on Instagram

 
4. Friction Caused By 3DS2
3DS2, a multifactor authentication mechanism, is intended to simplify online checkout. Banks and merchants can swiftly exchange information and assess the risk of a transaction. An additional piece of data, such as a fingerprint, facial scan, or one-time password, is requested from the customer. A customer's payment may be declined if they are unable or unwilling to supply this information.
5. Payment Method Declined
Not all online stores accept credit cards as payment. Customers can enter their information in this situation, but the transaction will eventually be declined. It can occur when respective payment gateways do not accept preferred payment methods. 
6. Exceeding The single Charge Limit
Despite having enough funds, some customers are restricted in how much they can spend in a single transaction. The transaction may be declined if they attempt to purchase something above that limit.
7. Mismatched Data
The transaction may be rejected if the cardholder provides information that does not match what the issuing bank has on file. It can involve using an incorrect password or card number. For a successful transaction, all the details must coincide with the bank information. 
8. Security Threats
Nearly every organization involved in online payment processing is constantly engaged in the fight to detect payment fraud.
Every bank, including issuing banks, has cutting-edge fraud analysis tools and aggressive fraud detection systems. Based on the spending patterns, these technologies analyze and confirm if the next transaction is authenticated or not. These tools can block and deny transactions if the pattern does not match. These are some warning signs in this situation that result in the transaction being rejected: 
A threat to security posed by an issuing bank.
The payment gateway may reject a transaction if the amount exceeds the merchant's maximum limit on transactions, which is common.
There is a list of BINs that are prohibited. The bank identification number, or BIN, is displayed on the card. The transaction may be declined if executed using a BIN on the blocklist.
9. Unreliable Internet Connection
A reliable internet connection is the foundation of any online transaction. When a customer's connection is unstable, they can attempt to pay at several different websites, but they will always become dissatisfied.
10. Expired Credit Card Transactions
Using a credit card that is expired will prevent the purchase from being completed. Online payment declines when transactions occur with expired card details. The above-listed points are the reasons why an online transaction occurs.
How Do NTT DATA Payment Services help prevent Online Payment Failures or Transactions? 
With its extensive selection of payment services, NTT DATA Payment Services offers end-to-end payment acceptance through both online and physical channels. We aim to provide hassle-free payment options with flexibility for successful transactions. We follow two strategies to combat online payment failures, which are as follows: 
Dynamic Routing
At NTT DATA Payment Services, we use dynamic routing. Dynamic routing is a method for determining the best route for data on a computer network.
Dynamic routers can route data packets depending on the network's present state. Data can be rerouted in real-time to avoid a problematic network area if it experiences traffic congestion or a failure in one of its servers. This method plays a major role in executing a successful transaction. We enable multiple servers to function and redirect the transactions to avoid payment failures. 
Auto Retry Option
An NTT DATA Payment Services feature automatically retries payments declined due to technical errors instead of asking customers to re-enter the payment details again. 
It is included in our payment gateway by default. It is integrated to perform hassle-free payments and offers various payment services. 
Conclusion 
We hope the above-listed pointers made you understand the reasons for online payment failures. However, with our payment gateways, and a vast range of services, we ensure to offer desirable payment solutions. If you have been facing any online payment issues, do let us know in the comment section, and for more details, follow our website. 
FAQs
1. What are the challenges in online payment?
The primary challenges in online payments are fraud and chargebacks, cross-border transactions, card data security, multi-currency and payment methods, technical integrations, etc.
2. What are the risks of cashless payment?
The potential dangers in cashless transactions are security breaches, identity theft and fraud, technical issues, glitches and system failures, power outages, etc.
3. Is cash better than online payment?
Though the choice between cash and online payment depends on personal preference, it is better to opt for online transactions because of their convenience and security. Since cash is widely accepted and does not leave a digital trail, it is common for individuals to use a combination of both cash and online payments based on their circumstances and needs.