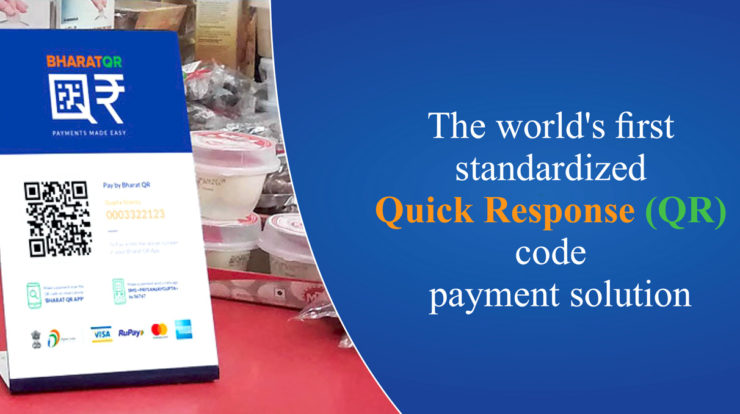 1. What is Bharat QR?
With every individual and business racing towards becoming digitally equipped, it is crucial to acquaint one with the current norms and attributes of digital payments. Innumerable options have been developed with the sole objective of making digital transactions easy and accessible to all. QR or Quick Response code is among such services that have single-handedly made accepting and making digital payments, effortless and elementary.
QR codes are two dimensional barcodes that can store immense information which can be read or accessed with the camera of any smart phone. Bharat QR is a fairly recent service that is developed by the National Payments Corporation of India in order to assimilate card payment services like MasterCard, Visa and Rupay.
To lend a helping hand, Atom Technologies, an Omni-channel payment company devised mGalla-A Payment App for Merchants, which provides a host of digital payment options on one's fingertips. Among these digital modes of payment is 'Bharat QR Scan and Pay' that allows merchants to accept payments directly in their bank account.
2. How Do I Accept Payments through Bharat QR Scan & Pay?
Whenever a customer seeks making payment through Bharat QR, he simply needs to scan the code provided by the merchant with his respective mobile banking application, thereby paying the required sum to the merchant.  But how does a merchant accept payments though Bharat QR?
mGalla provides any merchant a liberty to generate two kinds of QR codes in order to accept payments. This includes, a Static and a Dynamic Bharat QR code.
When accepting payment through a dynamic QR code, the merchant needs to:
Open the mGalla application on his device.
After logging in, enter the payment details to generate a payment request. These details would include customer's name, contact information and the amount that is desired by the merchant.
On entering the following information, the merchant is required to select the 'Bharat QR' option from the set of options present at the foot of his screen.
When he selects the following option, a QR code is generated on his screen. The merchant then can ask his customer to scan the provided QR through any mobile banking application supported and make payment directly into his bank account.
When a merchant generates a dynamic QR, the customer doesn't need to input the amount or any information pertaining to the payment, making it an extremely quick and simple procedure.
3. How can Bharat QR benefit your business?
Bharat QR allows you to accept digital payments through the method of Scan and Pay. A merchant does not require a POS terminal (card swipe machine) to receive payments. Bharat QR functions on the IMPS method. A customer needs to simply scan the QR code generated by the merchant in order to make payment to him.
Bharat QR is quick, easy and highly secured. When it comes to making payments through credit or debit card, a customer is always worried that someone would get hold of the crucial card information such as card number or CV but, to make payments through Bharat QR, all that the customer needs to do is scan the QR code with the supported mobile banking application saving him from giving out his bank details.
Bharat QR is supported by most of the banking application. This means that your customer doesn't need any particular application to make payment to you. Essentially, your mobile banking application is your wallet when it comes to making payments through Bharat QR code.
Accepting payments through Bharat QR eliminates the hassle of long queues as the process become simpler and much faster. The customers are merely required to scan the QR code available with the merchant and don't have to punch in unnecessary bank or card details.
Accepting payments through Bharat QR is much cheaper as compared to a POS machine or any other solution. In order to accept payments through cards you would require a POS device which may involve a heavy investment whereas, accepting payments through Bharat QR would implicate nominal charges.