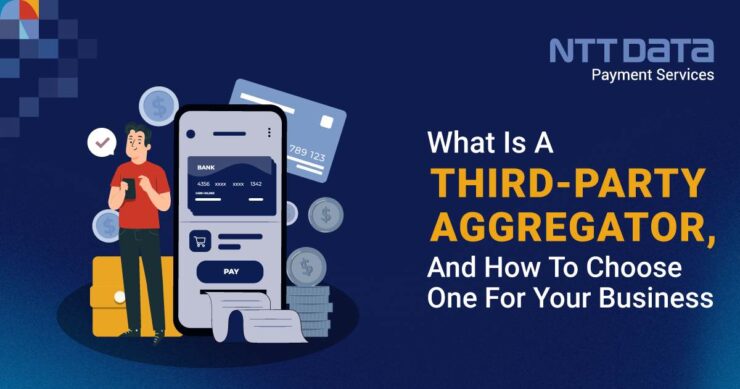 What is a Third-Party Aggregator?
A third-party payment aggregator is a type of payment aggregator. A payment aggregator, also called a merchant aggregator, is a third-party payment service provider that you can integrate into your apps or websites to accept online payments from your customers. It enables you to accept payments without having to set up a merchant account with the bank.
A third-party payment aggregator is a type of payment aggregator that offers different payment methods like bank transfers and card payments for customers and facilitates smooth and secure transactions. They relieve you of minor operational errors and save you monthly merchant account maintenance and processing fees.
Benefits of a Third-Party Aggregator
Integrating with a payment aggregator is the best choice if you wish to quickly start accepting payments with minimal hurdles. They offer a secure and seamless setup, so you can start accepting payments at the earliest. Here are some benefits you get from using a third-party payment aggregator.
They can process and accept payments quickly and easily for merchants or e-commerce sites. 
They provide customers with different payment methods such as debit/credit card payments, net banking, e-wallet, UPI, QR Codes etc.,
Merchants do not have to set up a separate payments integration system, the third-party aggregator does it all at minimal or no set-up fees.
How to Choose a Third-Party Aggregator?
So far, we have seen what a third-party aggregator is and what benefits we get from integrating your merchant websites or apps with the aggregators. But how do you choose a payment aggregator? How do you know which aggregator suits your business the most? Here are some of the criteria you can keep in mind before choosing your payment aggregator.
1. Sub-Merchant Account
A good payment aggregator should help you set up a sub-merchant account. You won't be able to take payments from customers if you don't have a merchant account. To set up a merchant account, you should provide your business address, proof of registration, PAN card details, and bank account statement. Even though the verification process is digital, it may still take some days to complete. Having the right payment aggregator can take you onboard as a merchant within a few days.
2. Security
Make sure that your payment gateway has efficient security measures to protect your website and customer payments from fraud or theft. They should adhere to the information security policies and be able to reduce any threats your payment systems may face. 
If your website encounters any cybersecurity breaches, your payment aggregator should be able to identify them and immediately report the breach to the concerned authorities to mitigate the situation.
3. Instant settlements
Your payment aggregator should have an option for instant settlements. Usually, payment aggregators take 2–3 days to settle the funds in your account. But with instant settlements, you can have your funds deposited into your account within just 15 minutes of the transaction.
4. Instant Refunds
Nowadays, many customers ask for a refund, and they wish for it to be instantly deposited in their accounts. Usually, refunds take over a week to reach because they undergo several steps. But some payment aggregators can process refunds instantly. So choose the payment aggregator that has this feature. 
This is how an instant refund works,
The customer requests a refund.
The payment aggregator moves the transaction amount directly to the customer without asking the bank.
Simple and easy, right? This feature will also be appreciated by the customers. So take note of this feature when looking for a payment aggregator.
5. Customer support
A quality payment aggregator should be able to provide you with top-notch customer service. A dedicated account manager or any other person should be able to provide assistance if you encounter any problems with your onboarding processes. The aggregator should have options for real-time assistance like a helpline or live chat.
Payment Aggregator License
In this online world, a huge number of mediators, including payment gateways and payment aggregators, facilitate fund transactions between you and your customers. They are essential for a successful transaction and serve as a link between the seller and the buyer. 
According to the Payment Aggregator Framework published by the RBI in March 2020, payment gateways will have to obtain a license for them to acquire merchants and offer them online payment acceptance solutions.
Security Measures to Adopt to Obtain a Payment Aggregator License
Below are some of the security measures that the payment aggregators should adopt to obtain the PA license.
The aggregators should follow PCI-DSS and PA-DSS encryption standards.
It should be able to detect threats or possible impacts on the privacy and integrity of a business. 
The staff employed by the aggregator should be well-trained and have sufficient IT skills. Regular training sessions should be conducted for them.
The aggregators should perform a thorough security analysis of their employees, their business environment and IT (Information Technology). 
The process or procedure of managing an application should be documented and approved by the owner of the application. It should be updated regularly.
The international community of cryptographers state that merchant aggregators should choose encryption algorithms that are accepted by professional organizations, government agencies r reputable security providers.
Payment aggregators should take the necessary measures to ensure that the system they are using to collect data belongs to them and is not owned by outside authorities. 
The aggregators should submit the quarterly internal and annual external examination of cyber security reviews and reports to the IT committee. 
These security measures should be upheld by the payment aggregators in order to obtain a Payment Aggregators License.
NTT DATA Payment Services India Ltd
NTT DATA Payment Services is one of the leading online payment service providers, granting services to over 6 million merchants and having more than 100 payment options. Its clientele spans all major verticals including, Education, Government, Broking, Travel and Tourism, Gaming, Healthcare and Hospitality, Retail etc. Some of the services offered by NTT DATA Payments are
Online Payment Gateway
QR Code
IVR
Mobile Application
NTT DATA Payment Services provides you with a safe and hassle-free way of tracking and managing online payments. You get high success rates in your transactions with multiple payment options. NTT DATA Payment Services helps both startups and well-established businesses by improving their revenue and safeguarding their customer's data. Some of the features of NTT DATA Payments are multiple payment options, invoice payment, Auto retry option, and multibank EMI. 
Some major payment options offered by the NTT DATA Payment Services' Payment Gateway are;
Credit/debit cards
UPI
Net banking
Challan
(Covered in Wallet)
EMI
Wallets- Google Pay, Phone Pe, Amazon Pay 
NEFT/RTGS
IMPS
NTT DATA Payment Services gets a PA License
NTT DATA Payments Services got its in-principle approval for the Payment Aggregator license from the RBI this September. The company has a volume of over 10 crore transactions across India, with an annual transaction value of Rs. 150,000 crores. The vision of NTT DATA Payments Services India is to develop the company into one of the country's top three payment service providers. The company strives to achieve it through superior products and better services.
Conclusion
A third-party payment aggregator is important for online businesses to have smooth and safe transactions. It is a link that connects you and your customers. So, make sure you choose the best payment aggregator for your website. Follow the criteria we discussed above to choose the third-party payment aggregator that suits you.
FAQs
1. What is a third-party payment aggregator?
A third-party payment aggregator is a service provider that enables merchants to accept payments through multiple payment methods and channels, including credit/debit cards, e-wallets, and online banking. It simplifies the payment process for merchants by aggregating all payments into a single platform.
2. What are the benefits of using a third-party payment aggregator for your business?
Using a third-party payment aggregator can simplify payment processing for your business by consolidating multiple payment channels and reducing the need for various integrations. It can also provide increased security and fraud protection measures.
3. How do you choose the right third-party payment aggregator?
Consider factors like security measures, transaction fees, integration options, and customer support while choosing a third-party payment aggregator. You should also evaluate their reputation and user reviews.