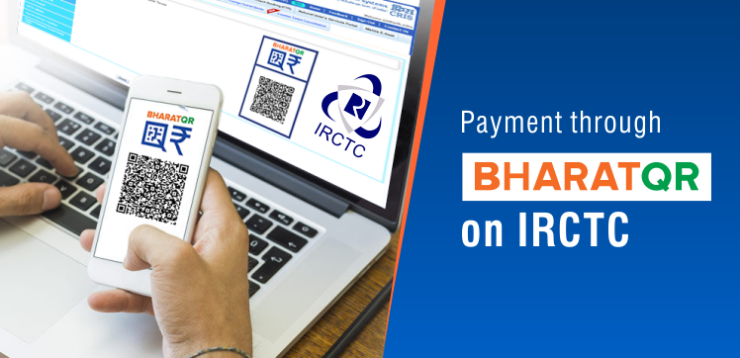 With Indian Railway being the fourth largest network in the world it is well assumed that all of us have travelled through the railways at some point of time or the other. Having said so, it has been noticed that most of these travelers have faced problems with either booking the tickets or making payments. Booking railway ticket and inputting bank details have always been a tedious task for a traveler. In order to encourage and simplifying the process of digital online payment for them, IRCTC has collaborated with ntt data payment services india and introduced a novice method of accepting payments through the Bharat QR code.
Bharat QR code is a simple QR code accepting payments through four major card companies: National Payment Corp's RuPay, Mastercard, Visa and American Express. It is a fund transferring facility that allows you to scan and make payments through your mobile banking app instantly and conveniently.
Customer: How does Bharat QR Scan and Pay works?
AtomTech: When you book a ticket through IRCTC and proceed to make a payment, it will generate a dynamic QR code on the screen which you simply have to scan through your mobile and the transaction gets completed. Travelers don't have to keep punching their credit/debit card or bank details again and again. The customer just has to login in their mobile banking app and scan the dynamic Bharat QR Code displayed in order to make the payment. Majority of the mobile banking apps are now enabled with Bharat QR Code.
Customer : How can I book tickets on IRCTC through Bharat QR Code? I hear about booking tickets on IRCTC through Bharat QR code but how does it work?
AtomTech: Bharat QR is a simple QR code that allows you to make payments through a simple scan. When you go on IRCTC website and book a ticket you can use the 'scan and pay' option. After entering your mobile number and email id a QR code will be generated on the screen. You are then required to scan this code by login in your mobile banking app. And the transaction is complete.
Customer: How is it better than using other payment options?
AtomTech:
Making
payments through cards
, net banking and other options is a big hassle in itself. You need to punch your details and a constant fear about your information getting misused is always there. Bharat QR circumvents all of this.
Cutomer: Do I need to download any app for this?
AtomTech: Absolutely not! You can scan the Bharat QR code with your mobile banking app and book e-tickets and make payments through it with no worries.
Customer: Why use Bharat QR Scan and Pay instead of Card and other banking options?
AtomTech: When you make payment through Bharat QR scan you have the luxury of simply scanning a QR code instead of constantly punching your bank details and broadcasting your information. You don't even have to input the amount with Bharat QR's Dynamic QR Code. All you need to do is open your mobile banking app, give in your details and scan the code provided.While making payments through credit or debit cards or via online banking, you constantly run under the fear that the merchant may get your account details. With Bharat QR Scan, you can make payments and book e-tickets with no hassles or worries and your information stays safe and secure.
Customer: What do you mean by a QR Code and what is Dynamic Code?
AtomTech: It is a two-dimensional (black squares arranged in a square grid on a white background), mobile/machine-readable optical label that contains information about the item to which it is attached.A dynamic QR code is a code that is generated real time where you will have the merchant name (in this case IRCTC) and the amount (cost of your ticket)
Here you don't have to enter the anything manually on the phone, not even the amount. It is system generated. So the scope of making any error while putting in the merchant name/amount is zero.
What is Bharat QR, How it works & How it benefits your business