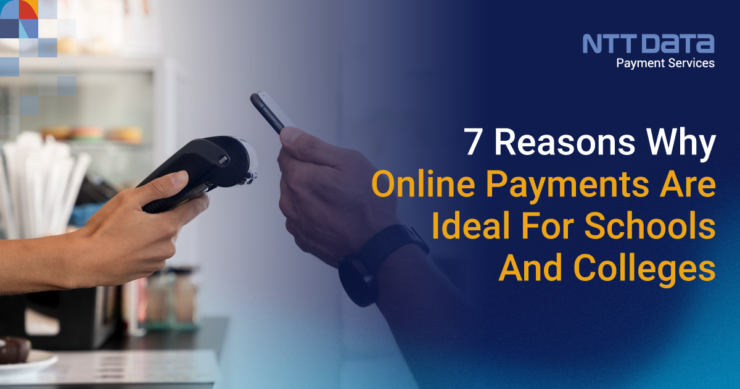 Every academic institution has a hectic day on the first weekday of the month. Parents bring their children's fees to the administrative office on this day. They wait in long lines, pay the fees when it is their turn, and then rush to their workplace.
However, with the advent of the digital payment system, parents have been effortlessly enabled with effective payment options. Let us discuss why online payments are the best in today's time for processing fees and other payments for schools and colleges.
The modernized education system has enabled students and institutes worldwide to connect regardless of where they are situated.
Here, digitization plays a pivotal role. The internet, digital devices, and the ability to take online payments have all been significant factors.
With a digital payment system, parents can easily pay their children's tuition or admission fees with the click of a button. Educational institutions may save all the relevant data in a secure database.
As per reports, the Indian Edtech market is expected to reach $4 billion in revenue by 2025. In 2020, it was 750 US dollars. India has more school-age children (250 million) than any other country. The applicants for the "Study in India" program increased by 146% in 2021.
Here's why every educational institution shall be digitally enabled.
1. Ensures the timely payment of fees
In the traditional way of fee payment, it's not uncommon to find some parents paying their children's school fees several days after the due date.
Some people arrive late owing to their hectic schedules and lack of reminders, while for others, different factors may be at play. However, the issue can be resolved with a reliable digital payment method. It will notify parents before the deadline, by sharing automated fee reminders and SMS alerts which will remind them when the payment deadline is approaching.
NTT DATA Payment Services offer the following options for hassle-free online payments
More than 100 payment methods to choose from- including Netbanking, UPI, Credit and Debit Cards, Challan, IMPS, Bharat QR, EMI, etc
Invoice payment reminders
Instant customized or split settlement as per the institute's requirements
2. Easiest and safest method
Accepting payments online through your school portal via payment gateways is quick and simple. You may effortlessly collect exam admission or semester fee payments through integration with the platform. It helps enrich students' experience by streamlining their account information, refunds, and fee payment options.
You can let the parents and pupils know about it. Since your platform for collecting fees would be accessible from anywhere, it will require less manual effort. It would be possible to pay the fees promptly.  
NTT DATA Payment Services makes it secure and error-free by security compliances. Our payment gateways are dedicated to several educational institutions to create effective payments. 
Multiple hassle-free payment options
A seamless payment gateway that offers safe online payment options
Invoice payment reminders of pending payments for parents
3. Create a quick and steady cash flow
Using payment gateways for your institution, you can ensure the cash flow availability is far better than it was earlier using demand drafts and cheques.
To learn more, you can speak with your payment gateway partner. As a result, other operations can be planned and carried out more effectively using the resources typically allotted for fee collecting and daily accounting with the regular flow of incoming funds to the institution's bank account.
NTT DATA Payments Services offers a robust payment gateway that aids your educational institution to grow in revenue, alleviate risk, and safeguard the payments made through your portal.
4. Decision Support with Access to Rapid & Detailed Reports
Your institution will access a single dashboard with all the reports related to fee transactions after our digital payment gateway has been integrated. You can create graphical or excel reports and view the total amount collected on a daily, weekly, or monthly basis, etc. You can also view any successful or failed transactions or fee payments with no fee receipts. These rapid reports will all be based on recent transactions. The adaptability and depth of reports will differ between payment gateways.
As previously said, the dashboard keeps track of the records, making management simple for the administration.
5. Instant Communication and updates to Parents
A receipt is generated as soon as a payment is made online, and parents are notified via SMS, email, or mobile banking app notifications. It makes it easier for the parents to determine whether or not the transaction was successful. They wouldn't have to contact the school separately to get the receipt. 
Payment gateways for managing schools and advanced digital payments are very user-friendly. Along with offering many payment options, it also displays real-time data, is designed for speedy operations, and enables consumers to access all the vital data.
6. Flexible payment options
Limited payment alternatives may discourage or postpone a parent from paying. Various payment options are made available through online payment systems, including website transactions through a school fee portal and email transactions.
Digital wallets, credit and debit cards, netbanking, EMI  and mobile money are all accepted forms of payment on our Payment Gateway.  With these choices, a parent can conveniently make a payment at home or on the go. Additionally, you can consent to parents paying their tuition to pay in more than one installment,  rather than all at once with the EMI option. 
Parents who can select their chosen payment method and pay in multiple installments are more likely to make their payments on time.
NTT DATA Payment Services offer the following flexible payment options:
100+ payment options include 10+ Credit Cards, 50+ Net Banking, 100+ Debit Cards, 10+ wallets, IMPS, UPI, Bharat QR Scan and Pay, NEFT/RTGS, EMI, Challan and a lot more
Multi-bank EMI options available across all major bank credit cards
7. Accepts payments globally
There are no restrictions on where parents can make payments, thanks to establishing an online payment gateway. They can make payments from any location where an internet connection is available. They need a card, mobile banking app, or bank account to initiate the payment. It is also a useful and convenient option that will enable parents staying abroad to make payments effortlessly with a click of a button. 
The working hours are unrestricted with the payment gateway. Before leaving for their day jobs in the morning or after getting home from work in the evening, parents can make their payments. NTT DATA Payment Services enable parents to make payments via various methods, including credit and debit cards, net banking, UPI,  IMPS, Challan, EMI, Bharat QR and other online wallets, etc
Conclusion
NTT DATA Payment Services offers payment acceptance solutions to several educational institutions.
 It is India's most preferred digital payment partner in the Education segment, with almost all major institutes associated with it. 
The payment gateway integration can be enabled for transactions in student fee collection, applicant registration fee collection, admission fee, hostel fee, mess fee, etc.
The parents can pay from their account even by using the mobile app.