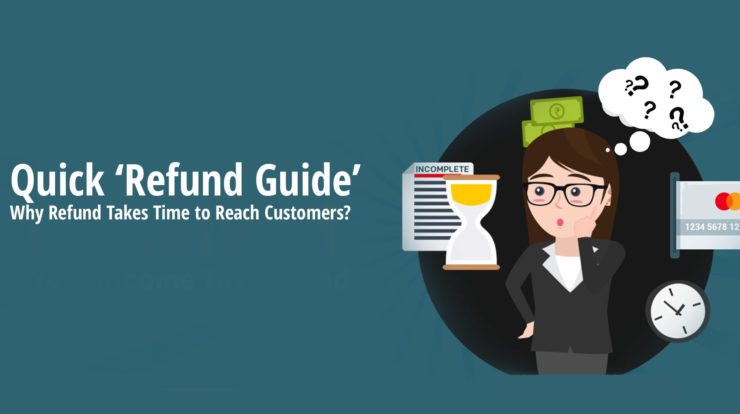 In simple terms, refund is a process in which a consumer ask retailer to return the money previously paid.
Has this ever happened to you while making an online purchase?
You returned an item and the money was promised to be credited to your account within 5-10 working days
Your transaction was not completed but money was still deducted from your account
You would expect that the refund would reflect instantly in your account, right? Why then does it take so long?
Let's take you behind the scenes to see why payments fail, what are legitimate cases for refunds, what you should expect and do as a customer to get your refund.
There are two broad instances in which a need for a refund is created.
Case 1-   A customer tries to complete a payment on a website but the payment shows up as failed. However, the customer is notified by his bank that money has been deducted already.
How do payments fail? 
If the communication fails at any point after the customer account has been charged, the payment fails and the customer has a legitimate case for seeking a refund. There can be various reasons for failing but the most prominent one in our experience is network connectivity. Until all steps are complete, the customer's device needs to be connected to the internet for the customer to be notified.
Also, payments can show up as failed if the payment status is not updated either by issuing banks or the acquiring bank despite being collected. The payment gateway does not receive any notification in these cases just as the customers and the online business themselves. Payments work on several technical infrastructures and all of them are not as optimized to solve such issues. As the classic adage goes –  any chain is as strong as its weakest link. This could not be more true for online payments.
Case 2- The customer transacts successfully on a website for purchase of certain goods or services. But the customer requests a refund from the business when the product arrives as he realizes the disinterest or misfit in the order.
What happens next?
The online business now makes a refund request via their payment gateway. The payment gateway conveys this information to their acquiring bank (the bank with which they have an account) via APIs. This acquiring bank has to communicate with the issuing bank (the bank in which the customer account/card is held) which was used for the payment and raise a refund request. Ideally, the refund request is accepted, filed and then processed by the issuing bank. On completion of this process, refunds are reflected in the customer's account/card balance.
Why refunds take 5-10 days?
There are numerous payment gateways working in the country with major acquiring banks which help process payments and various banks which allow payments via net banking or their card network. Each refund has to go through at least these three parties and flow of communication for each refund varies as per the combination of these 3 parties. At times, a refund request gets dropped in the process due to network failures. Whenever this happens, the refund may stay void until the refund request is initiated again.
How does atomtech handle refunds?
At atom tech, we have developed special system to monitor the online payments so that the refunds are handled without impacting the end customers. Also, we attempt to resolve issues further with the banks via manual intervention if payment/refund is not tracked.
Our limitations as a Payment Gateway
The refunds problem is deep and reconciliation across all payment networks is a real challenge. For a payment to be complete it has to go through several stages and hence, becomes difficult to track. Say you are transacting on a website and what you see as a customer is an Order ID. This Order ID is now communicated to a payment gateway which assigns a payment ID of its own and calls it Payment ID. The acquiring bank receives this payment ID from the payment gateway and forwards it to the issuing bank with its own term Transaction ID or yet another payment ID. You can see where this is going. The same structure repeats itself when a refund request is made and a refund ID is generated by the merchant or the payments platform. As there is no universal tracking mechanism across the system, there are gaps through which the status of payments or refunds can sometimes be temporarily lost.
10 points to consider before choosing online payment gateway for your business