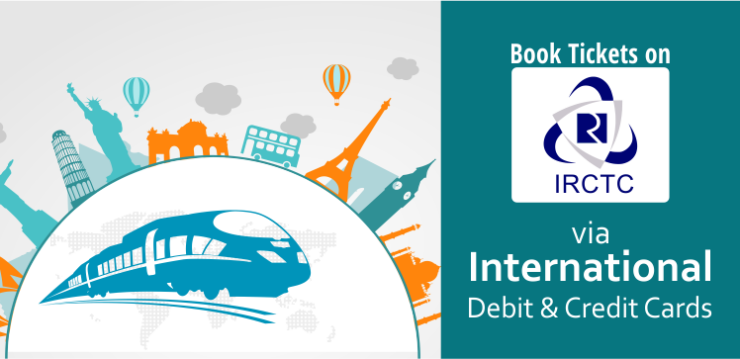 IRCTC goes global, joined hands with Atom Technologies, one of India's leading online & mobile payments platform to facilitate international travellers, as it allows international credit & debit cards issued outside the country, for booking of e-tickets through IRCTC.
Earlier, IRCTC has been offering the only option of making payments through American Express Cards, and other cards were not accepted. Foreigner and NRI travellers have constantly been facing the issue of not being able to make payments while purchasing train e-tickets on IRCTC Website. Keeping the affair in mind, Atom Technologies has worked with IRCTC, in order to make payments while booking train tickets through international cards possible, thus, catering the needs of the foreign and NRI travellers.
So, if you are an NRI or a foreigner and you or your family is looking forward to experience the Indian Railways, you can now book e-tickets with your international bank cards. Apart from Domestic Railway booking, IRCTC is responsible for Airline Ticketing, Hotel bookings, Travel Packages etc.
Mr. Dewang Neralla, CEO, ATOM said, "We are thankful to the team at IRCTC to choose ATOM for their global ticketing window. Our platform is a highly scalable and adhering to the latest industry standards in the payments industry and we are sure we would be able to match up to IRCTC's high technology standards. We have also signed up and integrated our platform with one of the best Risk Management platform globally, Decision Manager from Cybersource, which would enable to manage risk and fraud pro-actively."
IRCTC website is estimated to sell lakhs of tickets every day. Almost 3 Lac users carry out business on the website every day and almost 15,000 tickets are sold every minute. This facility is estimated to benefit around 3 lac international travellers who wish to book tickets for themselves or their family members.
To process payment through international cards:
Select the option of 'International Cards powered by Atom' payment option under the 'Payment Gateway/ Credit Card' category at the payment page.
Put all the mandatory details required for payment such as card number, name, expiry date, CVV etc.
Submit the details.
The booking will be successful when the response is received from the Bank/ Payment Gateway.
It is expected that this service will drive India directly onto the global tourism road map and will allow easier access and flow of tourists in India.