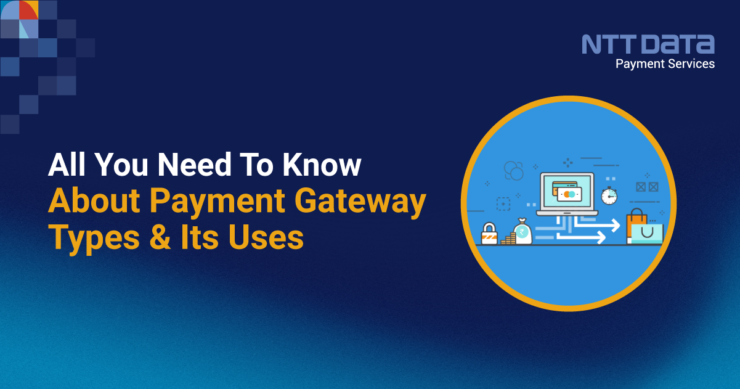 A payment gateway can be a merchant service useful in payment processing for several e-commerce sites and traditional brick and mortar stores. It is a safe and secure mechanism that transfers funds from a customer to a merchant's bank account. In this blog, we will summarise several key players, the procedure of payment gateways, payment gateway types and how integrating with the best payment gateway can escalate your business.
A payment gateway is a network through which customers can transfer funds to the merchant's website. It helps customers to make hassle-free payments, making it more convenient.
A payment gateway is an infrastructure furnished by a payment aggregator that creates a bridge between the customer and merchant accounts and enables safe payment processing. There are several payment gateway types that are highly customizable and secure.
NTT DATA  Payment Services – A veteran in the arena, we have enabled digital payment acceptance for all businesses, big or small, for the last 16 years over both online and offline platforms. NTT DATA Payment services provide 100 + digital payment options to accept online payments, ensuring you never miss out on your customers.  Our system is compatible with MasterCard, VISA, Maestro, Diners, and local switching. We are also integrated with over 50 banks for our net banking services. It is also advantageous for merchants because settlement and reporting of payments will be generated at the end of the day. We are the key players in offering end-to-end payment services in card processing, business intelligence, and mobile payments. We are one of the top pioneers of payment infrastructures globally, which offers seamless payment solutions. Our clientele spans all major verticals, including Education, Government, Retail, Broking, Healthcare, Hospitality, Gaming, and Travel and Tourism.
Let Us Explore Several key Players in the Online Payments System:
Payment Holders Include the following stakeholders that are as follows
Merchant – The person is making or initiating the business sale. The person operating in the business vertical, like ( travel or e-commerce, ecommerce) offers a product or service to its customers.
Cardholder– The person is making the purchase. The person acquires the products or services from the merchant and initiates the transaction.
Issuing bank – A financial institution that holds the customer's bank account and issues cardholder's credit or debit cards or several schemes.
Acquiring bank- A financial institution that holds merchant's bank accounts. It is also known as the bank that passes or transfers a merchant's information to the customer's issuing bank in order to receive the payment.
Card schemes- Companies that manage and enable cards, like "Visa", American Express, MasterCard, Rupay, Diners, etc.,
How Does a Payment Gateway Work?
We at NTT DATA Payment Services offer end-to-end payment acceptance services, with seamless payment solutions through online and offline channels and a wide range of payment services. Let us explore several features of NTT DATA Payment Services:
Multiple payments options – 100+ payment options that include 10+ credit cards, 50+ banks for net banking transfers, all major debit cards options with high success rates and being the best and most secure payment gateway in India
Invoice payment options and multi-bank EMI options to facilitate smooth transactions globally.
We offer affordable and competitive rates for a payment gateway that keeps the vision of providing top-notch payment solutions to our clients.
In this blog, we will discuss the process, in a detailed manner, of how payment gateways work and navigate throughout the process:
A customer initiates a payment transaction by clicking on the website's 'buy now' or equivalent button.
The payment gateway directs the customer to a secure page where they can authorize the transaction.
Once the payment gateway has approved the transaction, banks conduct checks on the customer's account to determine whether the transaction was successful or not.
The payment gateway sends the message (successful transaction or transaction error) to the customer.
The bank settles the payment with the payment gateway if the transaction is successful.
The payment gateway then settles the transaction with the merchant, notifying the customer that the transaction was successful and received payment.
How To Choose A Payment Gateway?
The following pointers should be in mind before choosing a payment gateway. It helps to enhance the user experience and forfeit some control with the help of third-party service providers.
Is it available in your country and your customers' countries?
Does it use encryption and other methods to keep financial information secure? Is it PCI DSS (Payment Card Industry) compliant for online payments?
Do you prefer a hosted payment gateway or a self-hosted payment gateway?
What methods of payment does it accept? Does it meet your customer's requirements?
Is it simple to integrate with your website, financial software, and point-of-sale system?
Is it equipped with the features that your company requires?
Ensure the payment gateway is a one-stop destination for facilitating payment, offering alternative payment methods, plugins, support during integration and grievances, and other services.
Payment gateway types: Let us explore the three different types of payment gateways that help to facilitate the payment procedure
Redirects: It is one of the best alternative payment processing and payment gateway type that helps enhance the user experience, specifically tailored as per the users' technical requirements. Redirect payment gateways include payment options, for instance, PayPal. When the gateway takes the customer to the website for payment, it displays a "redirect".
Several small companies or businesses can use this redirect method, as it offers convenience with simple payment options without many complexities regarding compliance requirements. It incorporates safety and convenience as a major platform for several customers.
2. Checkout on-site, payment off-site: This method handles the off-site payment process and is the second payment gateway type. Established payment gateways ensure that the cardholder's card details for the payment are regulated by the third-party site, which is exclusively made to deal with sensitive payment procedures.
It is always suggested to use the Secure Sockets Layer to ensure that both the servers are encrypted with confidential details. This payment gateway offers convenient, simple payment options per the tailored requirements. The front-end checkouts occur in the front-end site, and the processing occurs in the back end. In a nutshell, the customers purchase on your website or at your location, but the payment information goes into the payment provider's servers for further processing. It is also known as hosted or off-site payments.
3. On-site payments: It is also known as self-hosted payments and is the third payment gateway type. . The entire payment transaction happens on your server. Large-scale businesses or top-notch companies use on-site payments, where checkout and payment processing occurs on their servers. The advantage of this method is that it brings more control and responsibility into account. Retailers with high volume sales widely follow this method.
Uses or benefits of payment gateway: A payment gateway should offer several benefits like easy payment options, flexible settlement of payments, and alternative payment methods, along with high success rates and comprehensive real-time tracking of payments. It is important to find the right payment gateway that fits your requirements, and the following will offer valuable insights on several uses of payment gateways, which can be used for several purposes.
White label- It helps to upgrade or launch payments in a single day by optimising IT costs and risks used in the SAAS platform. It helps to upgrade the business payments and user experience.
Enables fraud and risk management- It offers secured compliant management practices and encrypted methods to keep the financial information secured.
PCI DSS wallet – One of the benefits of payment gateways is that it ensures PCI DSS (Payment Card Industry) compliance for online payments
API tools for integration. It offers the easiest payment integration, with several simplest and most convenient payments customized per the customer's requirements.
It is known to accept online payments for your business globally, with more than 100+ payment options that offer high security.
It makes it easier and more flexible for your customers. It helps to offer various flexible payment options for credit card transactions that provide more convenience and less friction during the checkout procedure.
It gives them various options of convenience and security to accommodate all the above-listed features in the payment gateway.
Consideration of Choosing Redirect Payment Gateways
It ensures customer safety assurance – It works well to comply with the safety requirements of handling sensitive financial data. PSPs are trusted worldwide and are known to boost the customer's confidence, as their data is held safely in the hands of those who are known for handling them securely.
Reduced PCI DSS requirements – It enables customization and compliance with safety requirements during the payment procedure.
Considerations of Choosing Direct Payment Gateways
Enhances and optimizes customer experience- It enables several eCommerce sites to customize the user interface and offer flexible payment options per the customer's requirements.
Highly customizable, keeping in mind the compliance requirements for customers.
We hope the above blog has offered some valuable insights regarding the functioning of payment gateways, types, and uses. It will enable your business to choose the right gateway, adding to a high-security level and maintaining compliance requirements.