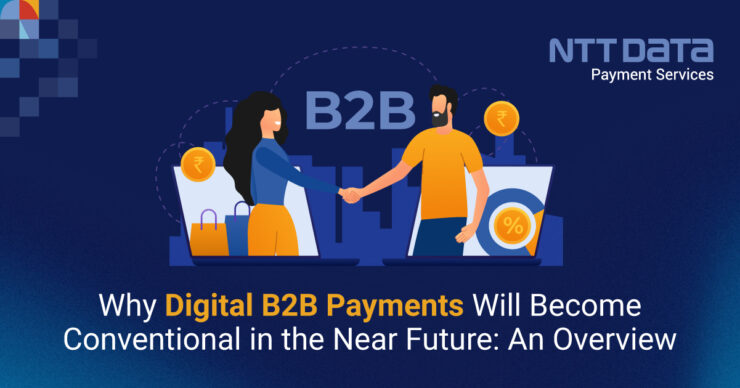 The Traditional B2B payment system was dependent on wire transfers and cheques. As businesses grow, they wish their transactions to happen faster to secure their deals at the earliest. Modern-day companies seek more efficient, secure, and streamlined payment processes. Digital B2B payments are poised to become the conventional way of online transactions soon.
Let's explore why digital B2B payments will become conventional in the near future.
Conventional Business Payment Methods For Better Tomorrow
Unlike traditional methods that need clearance and processing time, digital payments streamline the payment process and make it faster and more efficient. It eliminates all the physical paperwork and the risk of human error. This allows businesses to make international operations easier, as it eliminates the delays associated with cross-border transactions.
Digital payment facilitates quick responses to market demands and fosters stronger supplier relationships.
Recent Web Stories
5 Reasons Why Digital Payments Will be Conventional 
Digital payments reduce operating costs and improve overall efficiency. According to the global B2B payment report, businesses can save up to 60% in processing costs by adopting digital payment methods and enhancing efficiency in the payment process.
Here are the following reasons why digital payments will become conventional for B2B businesses in the near future.
1. Faster Vendor Payments
Traditional checks can take days or weeks to arrive via mail. Digital B2B payments streamline the payment process, reduce manual processes, and eliminate physical paperwork. Vendors using digital payments need to wait much longer. The transactions are made faster and are highly accurate. This helps the business grow at a faster pace. This also allows suppliers to get paid on time, avoiding conflicts between the parties.
2. Enhanced Transactional Volume
Traditionally, a business owner cannot wire more than a certain amount. It requires more authentication and probably delays the vendor's bank account deposit. Digital payments eliminate this and make your transactions seamless, as all the transactions can be easily authenticated and secured. According to McKinsey, real-time digital payments are expected to grow by 20% annually, topping USD 25 trillion in transactional volume by 2025.
3. Protected Payments
All your digital transactions are recorded with high levels of accuracy. Digital B2B payments offer high-level security measures, including encryption and decryption techniques. It also uses multi-level authentication to protect your payments against fraudulent activities. Digital payments provide complete privacy for your business transactional records and also keep them secure. It uses fraud detection algorithms to avoid security breaches and safeguard your real-time transactions.
4. Easy Auditing Records
You can make all your transactions transparent internally for auditing purposes. Since all your transactions are recorded digitally, they can be easily traced and kept on file during auditing and bank reconciliation. As per a survey conducted by Deloitte, 67% of organisations see digital payments as a reason for a better transparent transactional process compared to traditional cheques during bookkeeping. This transparency helps with auditing and allows businesses to access accurate financial data that is useful during strategic decision-making and negotiations with vendors or suppliers.
5. Integration With Financial Systems
Integrated payables solutions allow businesses to offer their suppliers fast, convenient, and multiple payment options. According to a report by Deloitte, integrating payment systems with ERP and other accounting software can reduce the time spent on manual data entry by 70%. This improves accuracy and reduces financial overhead by automating synchronisation with payment integration. According to a survey conducted by PYMNTS, 88% of CFOs believe integrating financial systems with ERP can improve cash flow and financial control.
Did you know?
The world's first digital payment happened in Pizza Hut in 1994. The transaction amount was $12.48 for a pepperoni pizza. This is a significant milestone in the history of digital payments.
Make Seamless B2B Digital Payments With NTT DATA Payment Services.
Automating your digital payments may seem challenging at times, but integrating the right POS system with your financial systems can boost your cash flow management by 75%. Check out the best POS solution from NTT DATA Payment Services that fit your business needs perfectly.
Your shop outlets can accept various payment methods, directly share the reports with your auditors, and keep all your transactional records safe. You can manage and monitor all your sales better and maintain a good cash flow system.
NTT DATA Payment Services offers a complete payment solution to advance your offline and online businesses from,
We ensure maximum comfort, convenience, and safety for all your payments.
Advantages of Digital B2B Payments
There are lots of advantages to digital B2B payments. If you run a small business, you can use payment links to make online payments and get benefits. 
Here is a list of a few benefits your business can access: 
1. No More Delay
With Digital payment, you can make all your payments to your suppliers and distributors on time. You can schedule payments and even streamline your credit transactions. This can automate your transactions and improve efficiency and reduce the processing time. 
2. Cost Saving
Compared to traditional methods, you can save money, especially with international transactions. Digital payments reduce administrative and operational costs. It can also minimise credit fee payments and allow you to control your cash flow management better.
3. Enhanced Security
Digital payments reduce the risk of fraudulent activities and restrict access to unauthorised payment initiatives. It uses advanced encryption and description algorithms to keep the online transaction secure. You can keep all your business transactions private and safe. 
4. Improved Integration and Compatibility
You can make all your payments seamless when you integrate digital payments with all accounting software and ERP systems. You can also generate invoices for all your transactions with your vendors. This also helps you to have accurate and up-to-date financial records.
5. Better Cash Flow Management
You can have clear and transparent payment records, which helps a lot when it comes to auditing. With Digital B2B payments, you can easily access your funds, check your account balances, and make seamless transactions with your suppliers. This gives you better control over your cash flow management.
Secure Your Business' Future With Digital B2B Payments
As technology advances, businesses proliferate, especially in the financial space. The benefits they bring regarding cost savings, efficiency, security, and large transactional volumes are priceless. Embracing digital payments streamlines financial processes and positions businesses for further growth and success. Utilise these digital B2B payments for your business, as they are becoming more conventional in the near future.
FAQs
What is the future of B2B payments?
With Digital B2B payments, businesses can accept all kinds of payment methods. This allows businesses to grow faster. They also provide a high-security level of security, making it more future-friendly.
What is B2B digital payment?
Accepting payments from your vendors digitally or paying your supplier online is called B2B digital payment. They get the services and goods in real time and wish to pay the price through the Internet.
What are the benefits of digital payments in B2B?
Here are some of the benefits of digital payments:
High security
Seamless transactions
Save money on processes
Payment on time
What is the future of digital payments?
The digital payment method is supposed to grow in India. Businesses can use digital payments to flourish. The digital payment dashboard has been integrated with more than 100 public sectors.
What are the benefits of digital payments?
Digital payments offer high speed and security for your online payments. You can integrate digital payments with your financial system to gain better control over your cash flow.