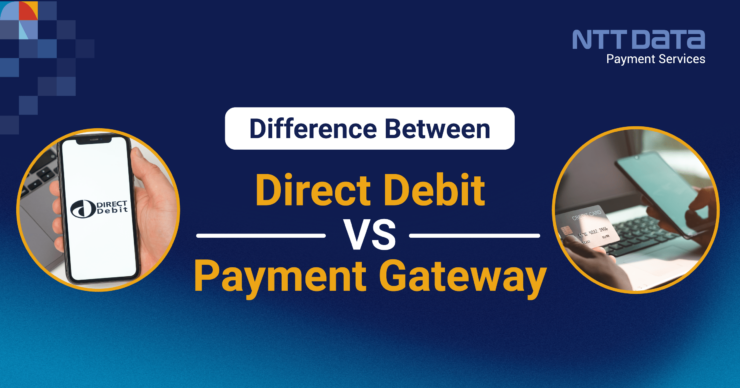 Online payments have come a long way in the past decades. Since the world has moved towards instant and faster systems, payment methods have become faster. Everyone wants to transfer money in a whiff without any hassles. In today's world, street vendors use digital methods to collect payments. How fascinating is that?
The most predominant methods used by the organizations are direct debit and payment gateway.
When interacting with physical and electronic payment systems, it is important to remember that each has unique procedures and regulations.
We will be taking an elaborate look at both payment methods and payment gateway for your business.
Let's first dive into direct debit.
What is Direct Debit?
By setting up a direct debit, you authorise your bank or financial institutions to release funds from your account to an organization or a company.
Any amount you owe the company may be collected by this direct debit method. However, they must notify you in advance (often 10 working days) of the quantity, timing, and frequency of their withdrawals.
For monthly expenditures like gas or electricity, direct debits come in handy, especially if the amount fluctuates frequently.
Why Should You Consider Using Direct Debit?
There are various reasons why you should choose to use direct debit to collect payments from your customers, but the most significant reasons are discussed below.
1. No delayed payments from your customers
Direct Debit puts you in charge because once approved by the customer, you may collect payments whenever they're due without your consumer taking any more steps. Thus, there will be no need to chase down late payers because they will always pay on time.
2. Direct Debit greatly reduces administrative time
The entire process can be automated after a Direct Debit has been established. The amount of time required to manage payments can be greatly decreased by having them automatically collected and tracked each month.
3. Follow-ups are not required
You can set up Direct Debit payments if you need to collect predetermined sums regularly and then forget about them because they will be taken automatically every time they are due without further action from you or your customer.
4. Direct Debit is more economical than credit or debit card purchases
Using the card networks typically results in 3-5% transaction fees. In general, Direct Debit is more affordable.
5. It reduces failed payments
Each month, 3% to 5% of card payments fail as a result of card expiration or cancellation. Direct Debit payments rely on the bank information of the consumer, which seldom expires or changes, resulting in failure rates of less than 1%.
6. It enhances your cash flow
Late payments will impact your cash flow because you won't know when to expect them and, consequently, when you can pay your invoices or purchase new goods. You can plan accordingly because you will always know when payments will arrive with Direct Debit.
7. For recurring, variable, and one-time payments, direct debit is perfect
Direct Debit can also be an excellent alternative for one-time payments (as long as you don't need the money right away), despite the fact that it is typically linked with routine and recurring payments.
9. It is eco-friendly
Not only is using paperless Direct Debit wonderful for the environment (there is no need for paper, printing, or postage), but it also saves you time and money and helps you run your business more efficiently.
10. It's simple to set up and begin using Direct Debit
Thanks to companies like NTT DATA Payment Services, you can utilise direct debit, regardless of your business size or income. Direct debit is frequently thought to be only for large enterprises or expensive and difficult to set up.
As a consumer, you can choose to pay through direct debit because,
You spend less time and effort because you don't have to worry about forgetting to pay a bill. You also avoid late payment penalties.
They also reduce costs. Many utility companies, including those for gas and electricity, provide discounts for Direct Debit payments.
They are also secure and safe. Any improper payments will be refunded to you by the bank.
What is a payment gateway?
The rapid increase in online transactions shows how important payment gateways are to your organization.
Payment gateways are programmes that handle online transactions for your company. They protect your business by facilitating secure and easy transactions and minimizing losses brought on by late payments.
A payment gateway can be defined as a network that your clients use to send you money. The point-of-sale (POS) terminals used at most retail stores are remarkably similar to payment gateways. Customers and businesses must collaborate while using a payment gateway in order to complete a transaction.
The payment gateway examines the customer's card information after they've placed an order and determines whether they have enough money in their account to pay you. This helps in avoiding fraudulent transactions.
Why should you consider using payment gateways for your business?
1. Faster payments
It is challenging to get paid at all; you are aware of this as a business owner. Many clients would rather pay right away and have it over with, than deal with the headache of agreeing to pay on a specific day and then failing to do so. It's a win-win situation for you and your clients because payment gateways enable them to do just that.
2. Convenience
If your business integrates with a payment gateway, clients can make purchases whenever they want, whether or not you are managing the store. It is more convenient for both you and your consumers if they may shop whenever it suits them.
3. Safe and secured transactions
Security is the main issue that customers have with online payments.
Payment gateways significantly lower the risk of credit card fraud for three reasons. They are:
The payment gateway receives the customer's credit card information safely. This implies that the only people who will be able to access the information are the customers and their issuing bank.
Every payment gateway needs to comply with protocols set by the government, which means they adhere to specific security guidelines to guarantee that processing your clients' card information is secure.
For each card they use to make an online purchase, the consumer must set a password, or One Time Password (OTP) will be generated from the gateway that cannot be used by anyone other than the concerned customer.
Takeaway
The setup process and the functionalities differ in direct debit and payment gateway. After the elaborate explanation of both of them, we hope you will have a better understanding. Simply put, Direct Debit is a feature of payment option provided by a Payment Gateway.
NTT DATA Payment Services provide you with easy, hassle-free ways to integrate your business with a payment gateway that connects your customer with you.