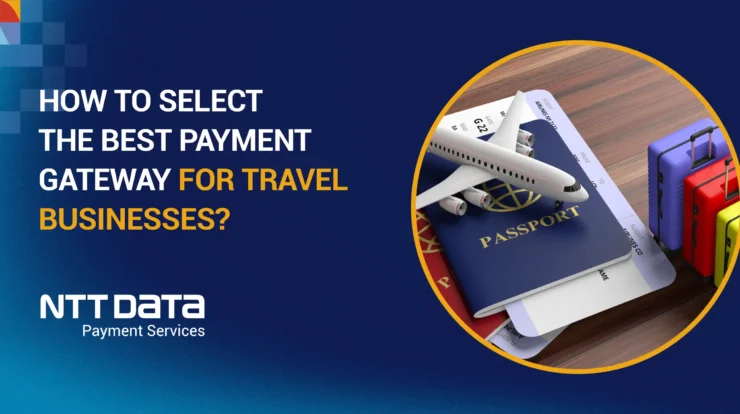 A travel payment study revealed that travel businesses and agencies spend as much as 5.4% of their revenue managing payments. Clearly, providing a smooth payment experience to travelers is an agency's primary priority.
As defined by Forbes, a payment gateway is a mechanism that reads and transfers payment information from a customer's bank account to a merchant's bank account. Its role is to collect data, ensure money is accessible, and pay the merchant. Payment gateways can be broken down into two different categories:
Offline: The payment gateway in the offline set-up is in the form of a POS (point of sale) system or a card reader that allows the transaction to be processed if the customer wishes to pay digitally. 
Why is a payment gateway for travel businesses important?
Ever since payments have shifted online, establishing a seamless payment gateway for travel businesses has become necessary. The terrors of a failed payment include losing customers, being bombarded with complaints, and eventually losing major sales in the short and long term. Here are some of the reasons why a payment gateway for travel businesses is important:
Increased efficiency: Payment gateways are much more efficient than traditional payments. Over 83.72% of the world's population today owns a smartphone, which means that people can make payments anywhere, anytime.
Easy to manage money: Payment gateways simplify the process of managing money. Some payment gateway service providers like NTT DATA Payment Services automate the transactions and ensure that you don't need to do it yourself or manage the hassles of cash and cheques.
Hence, getting the services of a payment gateway for travel businesses is inevitable. However, choosing the right gateway is completely in your control.

How to Select the Best Payment Gateway for Travel Businesses/Agencies?
If one of your primary goals is to provide your customers with the best possible travel service, choosing the right gateway plays a huge role in ensuring that. Without that, there are only a few customers, payment processes, and as a result, low income. Here are some factors that you must consider to ensure you choose the payment gateway:
1. Security
Security is the first and one of the most important aspects that you should check while choosing your payment gateway for travel businesses. Your customers are more likely to trust you and come back to you for future bookings if you provide them with a secured and safe payment process.
Hence, make it your priority to find a payment gateway with a bank-grade security level, like PCI DSS version 3.2 which offers you a secure encrypted environment to carry out payments. Many payment gateways allow you to undertake fraud detection and prevention measures to stay free of all payment-related troubles.
2. Customer service
Every business has its ups and downs, but you need to ensure that your payment gateway has a strong customer support team that will have your back when you're in your 'down' phase. Hence, coming second on our list, you must ensure that the payment gateway for your travel business must be one providing the following things:
24×7 customer support
A support email id and/or a phone number
Complete assistance with any query
Live Chat Support
3. Cost
The next factor you must consider is how much costs you will need to incur for the entire process. Here are the three main areas that require spending:
Set-up fee
Annual Maintenance Charges
Transaction fee/ MDR
While evaluating your perfect payment gateway, you need to consider the volume and value of your transactions. If the value of your transactions isn't considerably high, you can settle for competitive prices. However, if you often receive high-value transactions, a higher transaction fee may not suit your needs. In this scenario, a low transaction fee and set annual fee may work the best for your business.
4. Mode of payments
Each of your customers will have a different preference for executing the payment. Not having a specific mode of payment may delay their process or even make them shift to a competitor.
Generally, Visa, Mastercard, and AMEX are the most common payment modes clients use. However, customers may sometimes opt for UPI or other new-age payment options too. So, the best payment gateway for travel businesses provides all possible modes of payment.
5. Enable international payments
As a travel business, you may be accepting bookings from around the world. Hence, you should check if your payment gateway service provider gives people access to multilingual and multi-currency options. You may be charged extra for this service. So, find out all the information before you make your choice.
Which is the best payment gateway for travel businesses?
NTT DATA Payment Services provides a seamless digital payment solution for travel businesses/agencies. Having served over 6 million+ merchants, many of whom belong to the travel industry, NTT DATA Payment Services is a leading payment gateway for travel businesses. Here are some of the many reasons why NTT DATA Payment Services is a travel merchant's best payment partner:
They ensure that they deliver a contactless experience be it an airline ticket, for hotels or for a rental car.
NTT DATA Payment Services help you provide a safe and effortless experience for merchants as a top-five worldwide end-user services supplier with industry-specific travel, transportation, and hospitality solutions
They provide 100% customer satisfaction and support to their customers every step of the way.
NTT DATA Payment Services has a simple and easy-to-implement procedure that can be set up at the earliest in a hassle-free way.
Conclusion
The travel, transportation and hospitality industry has been growing exponentially post the pandemic, but most bookings have shifted majorly online. This mandates all travel businesses to ensure a smooth and safe payment process. Hence, as a merchant, you must consider the factors mentioned earlier before choosing a payment gateway for travel businesses.
Many travel businesses have entrusted NTT DATA Payment Services for their payment needs and have received maximum satisfaction from them. If you're looking for a strong partner to establish a payment gateway, NTT DATA Payment Services is your best choice! You can find out more about their services here: www.nttdatapay.com
What are your criteria for choosing a payment gateway for your travel business? Let us know in the comments below!