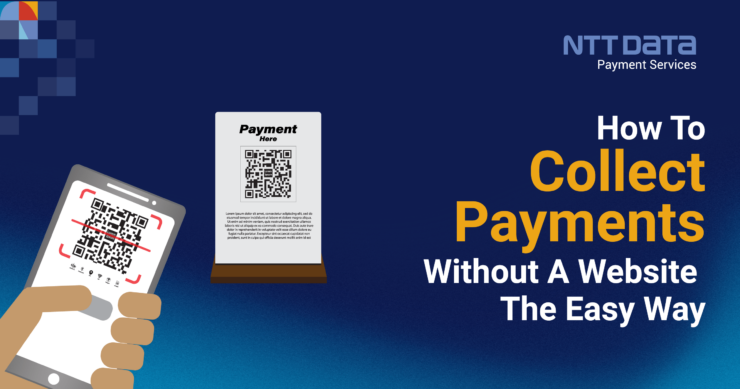 Imagine that you are the proprietor of a tiny boutique selling handmade goods. As you're just starting in your industry, you mostly sell your creations in a recently opened brick-and-mortar store.
It should come as no surprise if you lack the resources necessary to invest in creating a website with an online store. We are all aware that constructing one can cost a fortune.
You decided to open a few social media profiles; as a result, interacting with potential clients and marketing your products there.
But now, the issue: how can you collect payments from your clients online if you don't have a website? NTT DATA Payments Services offers new-age online payment solutions to make payment acceptance hassle-free and offer the best services to your customers.
We will introduce you to smart ways to accept online payments from your customers without running an online store or a website. Now is the time to take full potential advantage through our smart payment solutions. 
1. Payment links
A payment link is a method that enables users to request and receive online payments from merchants other than the traditional online store. One of the well-known payment processors often powers it, guaranteeing the security of payments for both clients and enterprises.
Customers are directed to a checkout page when they click a link, where they can start and finish the transaction. As a result, when choosing how to manage online payments, you must consider several aspects and select the method that will benefit your customers and your business.
NTT DATA Payment Services' seamless integration with your business provides the best experience for your business model:
Business without a website – Don't have a website or app for offering services? Now use our interface to enable online payment connections for your customers.
Alternative Payment Option
Payment Links are a simple alternative to the cash-on-delivery and point-of-sale payment alternatives offered by your business. You might occasionally want to use payment links in particular circumstances. You can use payment links through another payment processor in addition to your present payment arrangement, even if your current payment processor does not support payment links.
NTT DATA Payment Services help in initiating payment links through the following ways:
A one-time invoice called a "payment link" includes the order information. It can be sent via email, messenger, or other practical channels. It is generated with the help of AP I from the merchants' accounts.
The customer can view the invoice for each payment by clicking on the payment link. The customer can then select their preferred payment option, such as a credit card, UPI or one of several additional options, and finalise the transaction.
What are the various payment modes supported by Payment Links?
Using Payment Links, your customer can pay via
Credit card
UPI
Debit card
Netbanking / IMPS
Wallets
QR Code
EMI
Highlights of Payment links at NTT DATA Payment Services
Secure way to accept payments
Convenient ways to reach more customers
Make informed decisions
Digitize your payment collection
Personalise your payment links
Collect payments
Seamless, hassle-free payment options
2. Merchant Dashboard
NTT DATA Payment Services offers an interface that is simple and intuitive, emphasising financial transparency. It is a smart payment solution that helps manage customer payments, analyse business operations, and enhance billing procedures.
Useful payment method
Offers insightful transaction status
Make a refund in one click with our interface
Payment statements to monitor your data integrations.
Real-time payment dashboard at NTT DATA Payments Services
We ensure to offer real-time insights on your business efficiency. It helps to monitor detailed insights and perform online payments without using the website credentials. Our merchant dashboard helps to initiate payment links, make hassle-free payments, and offer convenient payment options for customers.
3. Email invoicing
NTT DATA Payments Services possess recommended electronic bulk invoicing mechanisms to conduct business operations effectively. It helps to perform online payments efficiently and offers flexible payment links for smooth transactions. You can create your Payment Link with free reminders using an API or Dashboard and send them via SMS, Whatsapp, email, and other services. Our interface has remarkable tools that help to standardise the payment process. We ship bulk email invoices to our customers to execute online payments smoothly.
4. POS Machine
NTT DATA Payments Services offers a wide range of services that provides solutions to small, medium and large enterprises. The best card machines help customers to make payments effortlessly. NTT DATA Payment Services has served millions of merchants for decades by offering the best card swipe machine.
We understand several business models and their needs to offer smart payment solutions to their customers and ensure to deliver top-notch customer services. Our payment solutions require a minimal investment that will have high returns on customer satisfaction by providing flexible payment options.
Improved customer experience by accommodating several payment options
Trackable and actionable feedback from customers
Grows as business trends keep evolving by incorporating digital invoicing, digital wallets and many more flexible options.
Conclusion
What are you waiting for? Supercharge your business with NTT DATA Payment Links today!
Open the doors to growth and development with NTT DATA Payments, a complete solution that can hasten customer acquisition and create new revenue streams. Our ready-to-deploy payment solutions support your extensive merchant network and provide several value-added services to satisfy the demands of the digital age. We accept safe and effective online payments using all available payment options, including credit and debit cards, net banking, wallets, unified payments interface (UPI), links, Bharat QR, and EMI. We hope the above-listed pointers gave you valuable insights into how smart payment solutions can be implemented without a website. Do let us know your feedback in the comments section below.