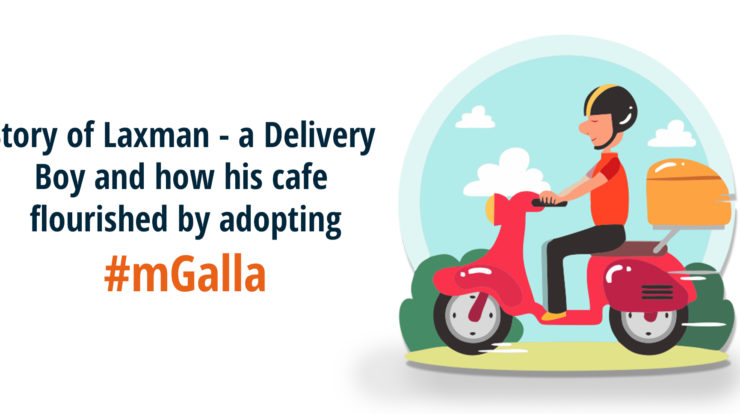 Laxman works as a delivery boy for a small café located in a very posh area of the city. His café is bustling with business and is growing considerably. It is a one of a kind, small and affordable café that serves the most scrumptious delicacies around.
Every day, Laxman has to go around making food deliveries to more than 50 customers. But Laxman isn't a super delivery boy. As his café functions on obsolete methods like cash on delivery, a lot of times, Laxman is limited to waiting till the customer goes to an ATM to withdraw cash. His customers sometimes ask if they can make payment through any other option, but the answer is always 'No'. Laxman realize that this constant inconvenience to his customers will not only lead to reduction in their sales, but will also hamper with the image of their café.
He can no more rely only on cash and miss out on digital payments. If he wants his café to grow and flourish, it is crucial for him to implement digital payment acceptance modes for delivery. But the question of how he can accept card payments on the delivery still remains.
Exploring a variety of options, Laxman came to know about mGalla and how payment options like mPOS can help eliminate his 'card on delivery' problem, completely.
mGalla is a digital payment acceptance application which enables merchants to accept digital form of payments. Apart from mPOS, it provides a host of options like UPI, Bharat QR and Link Based payments.
Laxman introduced his owner with the ease and simplicity of accepting payments through mGalla's mPOS and how they are not limited to accepting only cash on deliveries. mGalla doesn't only allow Laxman to accept card payments on the go, but it also maintains a record of the pending and received payments.
The user-friendly interface of mGalla doesn't even require Laxman to be tech savvy to collect payments from his customers.
Laxman doesn't care if his customer does not have cash anymore. He can now accept card payments effortlessly, simply through mGalla's mPOS device. His idea of integrating a pocket friendly digital payment application has provided an immense boost to the sales of his owner's café.