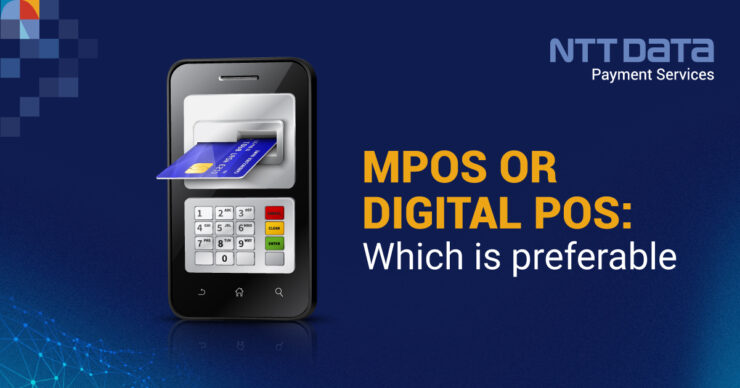 As Technology advances, payment methods are becoming essential as customer demands are raised for seamless transactions and satisfactory experiences. The emergence of digital POS systems makes all your customer transactions secure and seamless. It also takes care of your inventory. With the invention of mobile technology, mPOS is dominating the sales counter. It accepts different types of business payments and boosts the customer experience.
Let's explore which is better, mPOS or digital POS, along with its purpose and applications. 
mPOS and Digital POS: Two Sides of the Modern Payment Coin
The preference between mPOS and Digital POS hinges on various factors, including cost, accessibility, user experience, security, and scalability. Digital POS offers better security because it is a stationary setup with dedicated networks that can implement robust security measures. 
The convenience and flexibility offered by mPOS enhance the overall customer experience, reducing wait times during peak hours and leading to higher customer satisfaction. The choice between mPOS and Digital POS depends on a business's specific needs, industry, and long-term growth plans.
Recent Web Stories
Understanding mPOS and Digital POS
Let's understand the nature of mPOS and digital POS before making our choice.
mPOS: It stands for Mobile Point of Sale. It is a portable and mobile payment processing system that allows businesses to accept payments anywhere, anytime. It includes smartphones or tablets with card readers and payment processing applications.
Digital POS: It stands for Point of Sale. It is a stationary setup made up of computer hardware and terminals. It includes a printer, a cash drawer, and various peripherals. It covers all sales aspects, takes care of inventory, and stores customer data.
1. Cost and Accessibility
Business is about making money and profits, so if you want to optimise your sales counter. mPOS needs a lower initial investment than a digital POS. A digital POS system involves a printer, scanner, and computer for storing and processing transactions.
On the other hand, mPOS has an inbuilt printer and a card reader.
A digital POS is stationary at the sales counter of an outlet, whereas an mPOS has better accessibility. It can be easily carried around and can accept payment on the go.
2. Mobility and Versatility
mPOS liberates businesses from the confines of the sales counter to engage with customers on the shop floor or in remote locations. This reduces customers' wait time in long queues, especially during rush hours, and improves customer satisfaction.
On the other hand, digital POS is the perfect solution if your business processes higher volumes of transactions. It offers robust inventory management and seamless payment transactions. You can also integrate it with accounting and CRM software to enhance operations and customer service.
3. User Experience
mPOS has a better interactive and engaging checkout experience. Customers can view product information and quickly pay with intuitive interfaces and dynamic touchscreens. It also generates email or SMS notifications for customers.
Digital POS systems are also user-friendly. Recently, digital payments have modernised touchscreen terminals with intuitive software designs.
4. Security and Compliance
mPOS and digital POS systems have undergone significant advancements in payment security. In terms of security, it is safe to say digital POS systems offer more secure transactions due to their resources compared to mPOS. The digital POS has implemented robust security features with a dedicated network as it has to comply with industry standards for data security (PCI DSS) regarding transactions through cards and QR.
5. Integration and Scalability
It is crucial that both POS systems should offer support and scalability to excel in technology and managerial advancements. mPOS solutions can be extended by adding more devices or by upgrading the hardware with the latest components and software. 
Digital POS has an advantage in terms of integration and scalability as it is a comprehensive system. You can integrate digital POS with inventory management software, accounting systems, and CRM tools. It enhances and optimises the operations by accommodating additional terminals, which allow multiple checkout points.
Make Customer Transactions Seamless With NTT DATA Payment Services
Using the best POS, you can grow your business and make all customer transactions seamless. With NTT DATA Payment Services, you can access the industry's best POS system that supports seamless transactions and provides the best user experience. Secure and record all your transactions with PCI DSS 3.2.1V, a 256-bit encrypted payment gateway for your digital payments.
NTT DATA Payment Services offers a complete payment solution to advance your offline and online businesses from,
We ensure maximum comfort, convenience, and safety for all your payments.
Differences Between mPOS and Digital POS
So, which POS is your professional choice—mPOS or Digital POS? Let's discover their differences, implementations, and benefits.
| | | |
| --- | --- | --- |
| Aspects | mPOS | Digital POS |
| Hardware | Uses mobile devices such as smartphones or tablets. | Consists of computers, terminals, and peripherals. |
| Initial Investment | Lower initial costs, you can even upgrade or modify existing devices | Higher initial costs require dedicated hardware and servers  |
| Best For | Small businesses, food trucks, and mobile vendors | Established businesses with stationary outlets |
| Integration | Limited integration capabilities with other systems | Comprehensive integration with other business tools and software |
| Scalability | Scalable by adding more mobile devices | Scalable with adding more terminals for additional checkouts  |
| User Experience | Intuitive and interactive interfaces for customers | User-friendly interfaces with touchscreen terminals |
| Transactional Volume | Best suited for moderate transactional volume | Ideal for higher transactional volumes |
| Security | As it is wireless, security has some challenges | Resources-backed stationary setup has advanced security |
| Report Analysis | Limited reporting features | Comprehensive reporting and data analysis capabilities |
| Transactional Speed | Faster checkout process  | It may take fewer minutes during rush hours |
Both systems have unique benefits and limitations; you should carefully consider their specific needs before deciding.
Selecting The Best POS That Fits Your Business
Choosing the right POS system can enhance the overall efficiency of your business and improve the customer experience, whether it be mPOS or digital POS.
mPOS can make your transitions seamless and has a lower initial investment; on the other hand, digital POS has advanced security and integration with other systems. 
Suppose you are starting a business with low investment and fewer customers. In that case, mPOS will be your perfect solution, but if you are an established business that wants to scale rapidly, investing in a power-packed digital POS will bring all the fortune you need.
FAQs
What is the advantage of mPOS over normal POS?
Here are the following advantages of mPOS over normal POS:
It is mobile to carry easily. 
It has faster payment transactions. 
It provides a better user interface
What is the difference between mPOS and POS?
mPOS stands for mobile POS, and POS stands for Point of Sale. mPOS is more flexible and is a mobile device. POS is a stationary system with powerful resources.
What are the disadvantages of mPOS?
Here are a few disadvantages of mPOS:
Has some security challenges
Doesn't support integration 
Cannot process large volumes of transactions
Which POS service is the best?
NTT DATA Payment Services gives you the best POS service and support. They have a team of experts who interact with their vendors and help their business grow. You get the best service with NTT DATA Payment service.
What is mPOS used for?
mPOS is used by small-business or business on the go to process payments and generate customer invoices. It is simple to carry a device to process online payments.