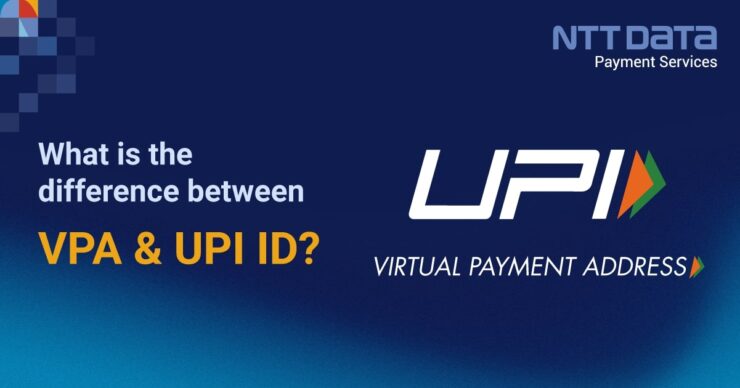 Since the introduction of UPI, the digital payments ecosystem has seen a massive surge in India in recent years. UPI has enabled seamless, instant, and secure fund transfers between bank accounts using just a mobile phone.  With UPI, users can create a unique virtual payment address (VPA) or a UPI ID, which serves as a virtual identity for their bank account.
In this blog, we will answer the most asked question, "What's the difference between VPA and UPI ID ?" and help you understand their role in UPI transactions. Keep reading the blog to get your doubt sorted once and for all!
VPA And UPI ID: What are they?
VPA stands for Virtual Payment Address. It is a unique identification number that enables users in India to send and receive money via the UPI ecosystem. 
A VPA can be used to send payments, transfer money, and check account balances. It functions similarly to an email ID for a bank account that is connected to UPI.
VPAs simplify the process of sending and receiving money by eliminating the need to enter bank account details such as account number, branch code, and IFSC code. Users simply have to share their VPA in order to transact, and the money is then immediately sent to the associated bank account.
Now, what's a UPI ID? Simple, it's the same as a VPA.  Yes, both VPA and UPI ID are the same thing- a unique identifier for your UPI account. 
So, What Is The Difference Between Them?
So, for the moment of truth…..there is NO DIFFERENCE between a VPA and a UPI ID! That's right, a UPI ID is just another name for VPA.
What Does A VPA Look Like?
The format for a UPI ID is as follows: 
It consists of a combination of four characters (such as the user's first name or a portion of their email or mobile phone number) followed by the "@" symbol and the bank's name or initials with a prefix or suffix added in some cases. 
For example, if the bank providing UPI services is named "XYZ Bank," a possible UPI ID could be "abcd@xyzb" or "pqrs@xyzbank."
How Is VPA Created?
Here's a breakdown of how to create a VPA
Choose a bank:

The first step is to choose the bank that you want to associate your VPA with. Almost all banks in India offer UPI services.

Download the UPI app

: Once you have chosen the bank of your choice, you must download the UPI app from Google Play Store or Apple App Store.

Get yourself registered

: Once the app is installed, register using the mobile number that is linked with the bank account and then confirm the OTP that has been sent to that number.

Create a VPA

: After completing the registration process, choose a username and connect it to your bank account to establish a unique and simple-to-remember VPA. Most banks let you use your email address or mobile number as your VPA.

Get it verified

: Verify your VPA after creating it by checking your bank's email or SMS. Your VPA will be operational and ready for use after it has been verified.
Note: You can only link one VPA to a single bank account. If you have multiple bank accounts, you can create multiple VPAs and link them to each account.
The Importance Of VPA In Making UPI Transactions
Virtual Payment Address (VPA) has become a key element in the Unified Payments Interface (UPI) ecosystem in India. It is a unique identifier that enables UPI transactions to be conducted quickly and securely without revealing sensitive information like bank account numbers and IFSC codes.
The importance of VPA lies in its ability to simplify the payment process for users. 
Using just one VPA, users can transact with several banks and merchants. There is no need to remember multiple bank account numbers and IFSC codes, which is time-consuming and prone to errors. 

Additionally, VPA protects user information by masking sensitive information, making it harder for fraudsters to access it.

The use of VPA has also contributed to the growth of digital payments in India, especially among the unbanked population. Anyone can make payments and transfers using just a smartphone and a VPA, without going to a bank branch or having a traditional bank account.
VPA is an essential part of the UPI ecosystem that makes and secures digital transactions. It has contributed to the expansion of digital payments in India by making payments for consumers easier to access and more convenient. 
As more individuals switch to using digital payments and as VPA continues to develop and interact with new technologies, its significance is predicted to only grow even more.
Enjoy Hassle-Free UPI Transactions With NTT DATA Payment Services
With the rise of digital payments, UPI has become a popular mode of transaction in India. Our payment solution at NTT DATA Payment Services includes UPI payments along with 100+ payment options, ensuring a secure and seamless payment experience.
NTT DATA Payment Services offers a complete payment solution to advance both your offline and online businesses. From online payment gateway and POS machine to IVR payments, mobile applications and Bharat QR Scan and Pay, we ensure maximum comfort, convenience, and safety for all your payments.
Conclusion
Wrapping up, we believe that you are now free of confusion while trying to understand the difference between VPA and UPI as you have now learnt that both the terms mean the same!
Both terms refer to the same thing – a unique virtual payment address that enables easy and secure transactions through the Unified Payments Interface (UPI) system in India. While VPA is the term used by banks and financial institutions, UPI ID is more commonly used by individuals and consumers. 
However, it is important to note that regardless of the terminology used, the functionality and purpose of a VPA or UPI ID remain the same, providing a convenient and efficient way to transfer funds between bank accounts.
Frequently Asked Questions (FAQs)
1. Is UPI ID and VPA same?
Yes, VPA and UPI ID are the same. VPA is essentially a UPI ID that may be used to transfer and/or receive money through UPI.
2. Is VPA required for UPI?
Yes, a VPA is required to make/receive UPI payments. A VPA is needed to make UPI payments, just as a credit/debit card is required to make card payments.
3. What is an example of a UPI ID?
Your UPI ID is a unique address that you use to identify yourself on UPI (yourname@bankname). For example, david@okhdfc is the UPI ID you can find on your UPI app.
4. Can you make UPI payments without the internet?
Yes, you can conduct UPI payments without the internet. Dial *99# on your phone and enter 1 to send money. Enter the recipient's UPI ID, phone number, or bank account number after choosing your desired method. Next, enter the amount and your UPI PIN. That's it, done!