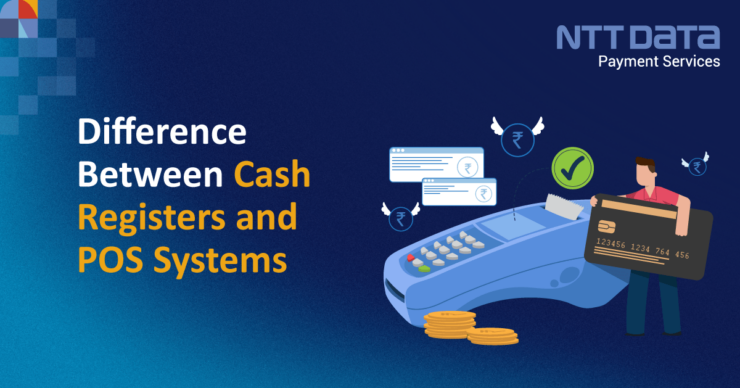 Did you know you could collect payments even without a website? That's right! That's how far we've come in terms of technological developments. From the launch of cash registers in the late 1870s to using POS machines today, collecting customer payments has only become easier and better.
Most successful retail enterprises handle hundreds or even thousands of transactions daily. Brick-and-mortar businesses need to equip themselves with the tools — both hardware and software — to keep things running smoothly.
In this blog, we talk about the major differences between a cash register and a POS machine. Many of these differences can significantly affect your company's ability to grow.
Keep reading!
What is a Cash register?
A cash register is a device businesses use to compute and record financial transactions. Most registers have a keypad for entering values and the option to attach scales, a cash drawer, a barcode scanner, and a receipt printer.
A cash register keeps track of all the transactions that take place in your shop, keeping track of the money that comes in and goes out. Additionally, it can generate receipts, calculate and add taxes, and provide minimal sales tracking.
However, most cash registers these days have gone digital and don't come with manual keypads anymore.
What is a POS system?
Using a combination of hardware and software, a POS system centralizes the operations and transactions of your business. Like a cash register, it integrates sales into the rest of your business rather than just monitoring them.
Due to their capacity to track, analyze, and interpret more metrics, POS systems help businesses operate more efficiently.
Now, there's some confusion between a POS system and a swipe machine. So, what's a swipe machine? How is it different from a POS system?
A swipe machine is one of the many things a POS system can do. A POS system is a more advanced version with more features while a swipe machine is simply a credit/debit card machine.
Difference between Cash Registers and POS Machines
1. Hardware
POS system: POS systems typically support connections with various hardware and software tools. Self-service kiosk systems, remote devices for processing sales, and various other payment tools, like contactless card readers, are types of hardware in them.
Though POS systems and swipe machines can seem complex, they are very easy to use once you get the hang of it. However, make sure to look out for tips to follow before using a swipe machine as it might make the process easier.
Cash register: Compared to a POS system, a cash register is a rather very simple and straightforward machine.
Most of the time, your keyboard and screen are physically placed with cash drawers and receipt printers. That means they are pretty big, so wherever you place them in your store is where they will be.
2. Integration
POS system:  A full POS system integrates transaction logging and payment processing into one system. Integrated payments are supported by modern POS systems, which means POS and payment processors work together smoothly.
This means that there are fewer chances of error, a speedier checkout process, and easier processes.
Cash register: Most cash registers can only link to your payment processor, so your business must manually record and reconcile the sales. Human error is more likely to occur, and reconciliation processes are more manual, making the job more difficult.
3. Features
POS system: While POS systems can do everything that a cash register does, it also comes with a lot of other features and benefits:
Managing inventory
Collect and store customer data
Analyze your sales, inventory, customers, etc. by running reports and analytics.
Create and implement promotions, and more
Cash register: Cash registers allow you to ring up sales and have a safe drawer for bills and deposits. Some of them can also offer simple sales reports, while certain cash registers can be tailored based on your tax requirements. They have minimal features and functionality.
4. Cloud computing
POS system: POS systems are increasingly saving their data in the cloud. This eliminates the need for an excessive amount of locally located, managed, and maintained hardware.
Cash registers: With a traditional cash register, cloud computing is not possible and this means you have to operate your business transactions only in its physical location.
5. Price & Fees
POS system: POS systems are comparatively expensive and might incur recurring bills. You would have to pay for both the software+hardware. However, this is more of a long-time investment for businesses.
Cash registers: Traditional cash registers are typically purchased outright since there is no software involved. They are also pretty affordable for businesses in their starting stage and do not have any recurring fees.
Your One-Stop Solution for Card Payments!
While many people use the terms POS systems and cash registers interchangeably, it clearly means two different things altogether. Now that you have understood the difference between the two, you also know which option is better for your business.
NTT DATA Payment Services offers a complete payment solution to advance both your offline and online businesses. From online payment gateway and POS machine to IVR payments and Bharat QR Scan and Pay, we ensure maximum comfort, convenience, and safety for all your payments.
Conclusion
Since technology is at the core of the best POS systems, new tools, and features are constantly being developed, giving your company all the capabilities it requires moving forward.
Like any other important business choice, picking between a cash register, a POS machine, and mPOS for your retail business depends entirely on your specific business needs.
Understanding the differences between a cash register and a POS system will help you choose the right option for your business.
And if you are looking to introduce a POS machine to your check-out counter, NTT DATA Payment Services has a wide range of POS and swipe machines suitable for businesses of all sizes.
FAQs
1. Why is a POS system better than a cash register?
A POS system will let you track inventory, clients, and sales in real time, while a cash register only assists in processing sales. It will also enable you to handle the transactions effectively.
2. What are the 5 types of POS systems?
There are many types of POS systems. The 5 most common ones are online POS systems, offline POS systems, cloud-based POS systems, mobile POS, and multichannel POS systems.
3. What is the main function of POS?
A POS system enables your business to receive client payments and track sales effectively. It seems simple enough, but the setup may work differently depending on whether you sell online, have a physical location, or both.
4. What is the advantage of POS?
The benefits of POS systems include improved customer service, simpler team management, increased sales, and more.
5. Why are registers called POS?
Point-of-sale is defined as relating to the place where an item is purchased, such as a check-out counter. POS systems are the endpoint in a customer journey of purchasing a product or service and help businesses complete transactions successfully.