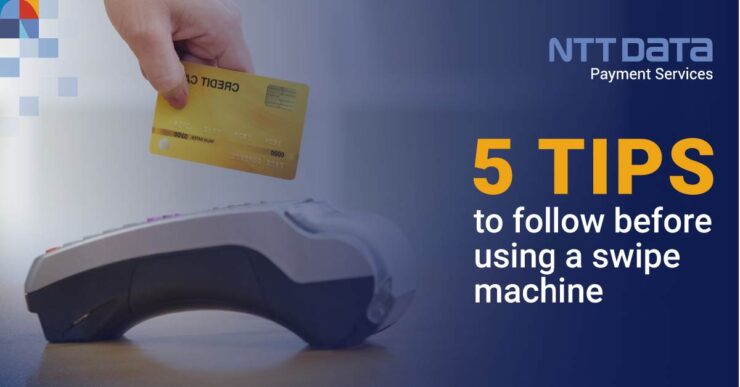 Swipe machines are the best POS partners- utilise them to make hassle-free payments for customers.
Contactless payments are becoming more common in today's world, but according to statistics, everyone carries at least one card because card payments are accepted everywhere.
Some people still believe that the swipe method is outdated, but the popular argument for using the old-fashioned swipe machine is that it is the most convenient form of payment that people are used to.
A swipe machine is now a common sight at most businesses'/shops' payment counters. Because many people no longer carry cash while shopping, having a swipe machine may prevent you from losing customers. You must also ensure the safety of swipe machines. You must be careful with the money of your customers. Customers entrust you with sensitive information and must demonstrate that you are worthy of that trust.
From offering flexible payment options to assisting you in upselling through EMI, POS is a useful end-to-end payment acceptance tool. Other advantages of a POS machine include flexible payment options, increased sales, streamlined payment processes, a perfect customer experience, less pressure on the cashier, less cash handling.
Interesting Facts Regarding POS Machines
In 2022-23, the global POS software market will be worth $20.13 billion.
In 2021, digital and mobile wallet payments accounted for nearly 30% of global POS payments.
56.5% of retailers use POS analytics for loss prevention
The global POS machine market is expected to grow at a CAGR of 11.7% during the forecast period of 2026
Things to Keep in Mind While Choosing a Swipe Machine
The best way to reassure customers about their data security is to use a swipe machine supported by strict technology and compliance standards. Here are some valuable tips to follow while using swipe machines:
1. Use a POS Device that Accepts All Forms of Payments
POS machines have evolved from bulky, wired PSTNmachines to sleek, light, and faster models such as Android, Wifi and Mobile POS. A good POS machine will accept all payment methods, including contactless payments, QR codes, and Credit and Debit Cards. As a result, while using a POS machine, ensure that it is equipped with the most recent technology to accept all forms of payment, including contactless and QR code payments. It should also be prepared to accept any future payment methods. The flexibility of payment options will be highly beneficial, making it future-proof.
Did you know? The total number of mobile POS payment users is expected to reach 85.6 million by 2025. Experts predict that the transaction value of mobile POS payments will reach $1,006,220 million by 2025 (Statista)
2. Connectivity and Security Options
Another essential factor to consider if you want to provide a superior customer experience is connectivity. Payments are simple and quick with a device with multiple connectivity options such as Bluetooth, WiFi, or 2G. The device should be designed to function seamlessly in your specific environment, whether at the branch or the customer's doorstep. Implementing these security measures can ensure that data is safely transmitted from the card reader to the processor. The SSL protocol for online systems improves security by shielding sensitive data from hackers. This method ensures that specific security controls are in place while processing your customers' credit cards, enhancing your company's credibility.
Did you know? More than 60% of recent POS system purchases were cloud platforms, marking a new milestone in which cloud platforms surpassed legacy systems for the first time.
3. Portable POS Devices
Some devices are so large that carrying them around is nearly impossible. Intelligent Android machines are ideal for in-store queue-busting experiences, as they can accept payments from anywhere. Similarly, mPOS machines are cost-effective and provide a variety of payment options. As a result, you can carry them around and offer your customers the convenience of paying by card at the door. NTT DATA Payment Services POS machine is an accessible option enabling hassle-free payments via wireless payment options. In a nutshell, they offer real-time communication of payments.

Did you know? 16.9% – the expected annual growth of mobile POS value from 2021 to 2025. (Statista, 2020)
4. Ensure to Use an Integrated POS Machine
You must look for an integrated POS solution if you have a business with high queue-build-up issues at billing counters. The POS now includes a variety of features for keeping track of every transaction. NTT DATA PaymentServices, one of the best card swipe machines in India, is at your service to deliver POS solutions that seamlessly integrate with your billing system, delivering a unified experience of unrivalled efficacy and assisting you in serving your customers faster and better.

Did you know? Among consumers, 28.6% of mobile POS users are between 25 and 34 years old, the age group with the most significant number of users. (Statista)
5. Should Accept all Bank/Network Cards
Make sure the swiping machine accepts various cards before investing. Purchasing a POS device that limits your ability to accept payments from only one or two banks/networks is pointless. You must guarantee your customers the best possible payment experience. As one of India's best POS machine providers, NTT DATA Payment Services accepts all major Debit and Credit cards.
Did you know? While 21% of stores that use POS systems are big businesses, 79% of them are small and mid-sized brands.
Why Choose NTT DATA Payment Services' POS Machines?
Quick settlement: We ensure to offer an automatic and seamless payment process via our digital payment solutions
Secured transactions: NTT DATA Payment Services ensures secured and safest transactions with a global standard compliance payment process.
Customized payment solutions: Big, small, or medium- our POS solutions are made to fit all your card payment acceptance needs.
FAQs
1. Why Should I Use a POS Machine?
Compared to using different software to manage each area, a POS is significantly more efficient and time-saving. Your administrative tasks can be centrally managed thanks to the portable POS machine, which integrates your customer service, inventory, accounting, payroll, and other payment options.
2. How much does a Swipe Machine Cost?
A swipe machine/ card swiper is one of the most crucial pieces of equipment you will require while operating a business, and the cost varies accordingly. Integrating with a secured and cost-effective payment gateway that offers seamless POS machines with real-time communication regarding payments is vital.
Key Takeaways
Ensure that the POS Machines are effortless to use. Additionally, the POS system should be simple enough to use that you will not constantly refer to the manual or dial tech support.
Verify the POS systems' compatibility with the programmes, tools, and toolsets that customers choose. It is best to explore POS systems that integrate seamlessly with third-party vendors.
Bottom Line
Do you still need to decide which POS system will be best for your company? Various smart solutions are available from NTT DATA Payment Services, including mPOS and integrated Android POS devices. Being a pioneer in the field of payments technology, we can customise the payment solution to your company's requirements and assist you in accepting all forms of digital payments through a single networked system.