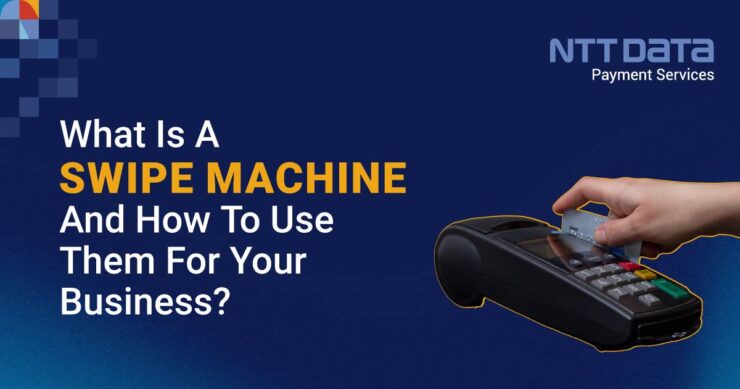 If you run a retail business with a physical store, you would've probably noticed how a lot of your customers prefer card and digital payments over cash. The ease and convenience of using cards and other digital modes of payment is a growing trend that only seems to continue well into the future. 
Today, in the post-covid era, contactless payments are becoming increasingly popular all around the world. As card payments are being accepted almost everywhere, everyone carries at least one card (debit or credit) with them wherever they go. Though some people believe swipe machines are old-fashioned today, the most convincing argument in favour of using them is that they are very convenient and get the job done in just a matter of seconds. 
Along with customers, businesses also hugely benefit from using these swipe machines. While cash transactions take longer to complete and have the risk of being stolen or damaged, card transactions are faster and easier and give customers a higher purchasing power, which ultimately results in higher sales and revenue.
Make sure you read till the end of the blog to learn more about how a swipe machine works and how it can benefit your business in more ways than one.
What is a swipe machine?
A POS swipe machine is a portable device that helps businesses process debit/credit card payments. It can electronically transfer funds from your customer's (the cardholder's) account to your (the merchant's) account. This is done by a tool in the swipe machine that reads the card's magnetic stripes and then securely authenticates the transactional data. This way, swipe machines act as a physical interface at the point of sale for users who swipe their cards to make payments. 
There are many different types of swipe machines for different purposes. A card reader used with a cash register is the most typical card swipe device. ATMs and debit card machines are some other types of popular swipe machines.
Why do you Need a Swipe Machine for your Business?
As technology advances every passing day, the way businesses deal with payments is also continuously evolving. Along with businesses, customers are also switching to more convenient modes of payment. To be honest, these card swipe machines aren't just a way to process transactions. These tools also increase your sales and revenue. 
Here are a few benefits of using a swipe machine for your business
A faster process: POS swipe machines make the checkout process much quicker. Since this payment method takes less than a minute, it also helps reduce wait time for your customers and avoids the need for long queues. 
More security: The transactions made with POS swipe machines are protected through multiple layers of security. Even though they are not 100% safe, these machines lower the risk of fraud and other security issues that come with managing and maintaining cash.
Improves customer service: Factors like quick payments, security, multiple payment options, ease and convenience automatically translate to better customer satisfaction. 
Increases sales: POS swipe machines are nothing less than a marketing tool. For example, an impulse shopper who doesn't have enough cash can easily purchase with their credit/debit card. At the end of the day, providing customers with multiple payment options only benefits the business.
Saves money: Swipe machines are reasonably priced equipment. The majority of credit card swipe machines are all-in-one devices. They can function without any additional equipment to help them, thus making the whole system less expensive. 
As you can see, there are a lot of benefits to using a POS swipe machine at your checkout counter. If you are a retail business owner, having a swipe machine is one of the most important and beneficial decisions you can make for your business.
How to Choose the Right Swipe Machine?
Now that you are familiar with the many advantages of using a swipe machine for your business, it's time to do some research and choose the best POS swipe machine that suits all your business needs. Not every POS swipe machine has the right features and end-to-end services.
Here are a few factors that you can consider when choosing one for your business:
Payment options: A good POS swipe machine comes with a lot of payment options. Make sure the swipe machine you choose can accept all types of payments, including magnetic stripe cards, chip cards, QR codes, and SMSs. 
NTT DATA Payments offers a seamless way of accepting and managing payments by providing over 100+ payment options. Giving the customer a huge variety of payment options increases their purchasing power and, ultimately, your sales.
Connectivity: To be able to deliver superior customer service, your swipe machine must have excellent connectivity features. A device with multiple connectivity options like Bluetooth, Wi-Fi, or 3G/4G makes the payment process easy and quick.
Security: Security should be your top priority when you set out to choose a swipe machine. Make sure you choose a swipe machine that does not compromise your customer's confidential financial information. Look for devices that are either PCI or EMV compliant. 
Portability: Some POS machines are so bulky that it is inconvenient to move them around. This should not be the case with your swipe machine. You should ensure that your machine is wireless, easily portable and lets you accept payments from anywhere.
Dedicated customer support: Is the service provider available and accessible at all times to address your queries? Make sure you get proper after-sales support as well as comprehensive training for your swipe machine through a dedicated helpline. 
Good integration: These days, most POS machines include many integrated features to keep track of every transaction. Pick a swipe machine that is lightweight, easy to carry, and Bluetooth compatible. It should also be easily integrated into your billing system to avoid manual efforts. An integrated machine helps you easily manage payments, monitor inventory, and process sales.
How to use a Swipe Machine?
Once you are done setting up your swipe machine, your customers can start swiping. The transaction usually takes place in less than 30 seconds, and the money is immediately transferred to the merchant account.
Here's a quick overview of how to use the swipe machine:
Conclusion
Today's electronic POS swipe machines come with smart solutions and provide personalised payment experiences that can meet the needs of different businesses. These swipe machines offer many benefits like ease of operation and save a lot of time, money, and work, while minimising the chances of errors. 
Once you have chosen the right kind of swipe machine for your business, you don't have to worry about card payments anymore! The process is simple and quick and gives your business a great marketing edge. 
NTT DATA Payments offer a wide range of swipe machines tailored to your business. We provide point-of-sale (POS) solutions that seamlessly integrate with your billing system, delivering a unified experience with unparalleled performance and faster and better customer service.
FAQs
1. How does a swipe machine facilitate electronic payments?
A swipe machine facilitates electronic payments by transferring funds from the customer's bank account to the merchant's account. It does so by securely authenticating the transactional data when the customer swipes their credit or debit card.
2. How can a swipe machine benefit your business and improve the customer experience?
A swipe machine can benefit your business by allowing customers to make electronic payments using credit or debit cards. It can improve customer experience by providing a convenient and secure payment method.
3. What is the difference between a POS machine and a swipe machine?
Both machines can process payments. A POS machine has additional features for managing business operations, while a swipe machine is primarily designed for payment processing.