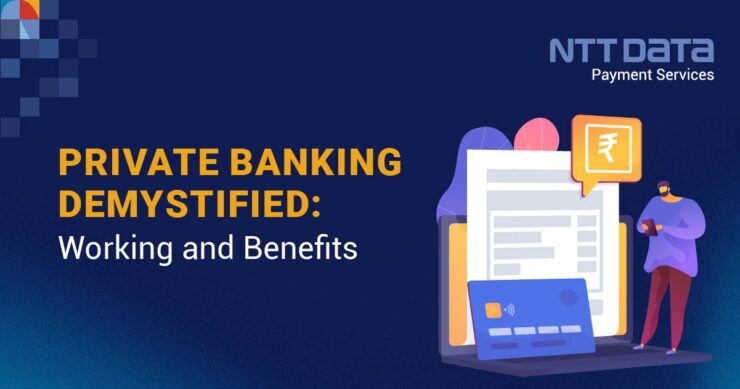 Private banking, often associated with exclusivity and luxury, is a financial service tailored to high-net-worth individuals (HNWIs) seeking personalised financial management and comprehensive wealth solutions. Despite its mystique, private banking is not solely reserved for the ultra-wealthy. 
In this blog, we will demystify the workings and benefits of private banking, shedding light on its key features, benefits, and how it caters to the financial needs of individuals with substantial assets.
Understanding Private Banking
Private banking refers to a specialised banking service offered by financial institutions to affluent clients. Unlike retail banking, private banking targets clients with significant financial resources, typically exceeding a certain threshold, such as several hundred thousand dollars or even millions. 
Private banks provide a range of services tailored to meet the unique needs of wealthy individuals and families.
The primary goal of private banking is to provide personalised financial management and advisory services. Private bankers work closely with clients to understand their financial objectives, risk tolerance, and long-term goals. They then develop customised strategies to maximise wealth growth, optimise tax planning, and preserve assets across generations.
Recent Web Stories
How Does a Private Bank Work?
Clients usually need to meet specific eligibility criteria, such as maintaining a minimum account balance or investment threshold, to avail private banking services. Once qualified, clients gain access to a dedicated relationship manager or private banker, who serves as their main point of contact within the bank.
Let's explore the working of private banks in brief.
Client Relationship Management: 
Private banks prioritise building strong relationships with their clients. They assign dedicated relationship managers or private bankers to each client as their primary point of contact. These relationship managers work closely with clients to understand their financial goals, risk appetite, and long-term aspirations. They develop a deep understanding of their client's unique financial circumstances and provide personalised advice and services accordingly.
Wealth Management:
One of the core functions of private banks is wealth management. Private bankers assess clients' financial situations and develop comprehensive strategies to grow, preserve, and manage their wealth. This involves creating investment portfolios, diversifying assets, and providing ongoing monitoring and adjustments based on market conditions and the clients' evolving needs. 
To provide holistic wealth management solutions, private banks leverage their expertise in various financial areas, including investment management, tax planning, estate planning, and philanthropy.
Investment Advisory:
Private banks offer specialised investment advisory services to their clients. They have dedicated teams of experts who closely monitor financial markets, analyse investment opportunities, and provide tailored investment advice. Senior citizens with good assets and finances can easily opt for fixed deposits.
Private bankers help their clients with risk tolerance, investment objectives, and preferences to create customised investment strategies. They offer access to a wide range of investment products, including stocks, bonds, mutual funds, hedge funds, private equity, and alternative investments.
Exclusive Products and Services: 
Private banks provide access to exclusive financial products and services that are not readily available to the general public. They often have partnerships and relationships with top investment firms, private equity funds, and hedge funds, granting their clients unique investment opportunities. 
Private banks may also offer specialised lending solutions, such as tailored mortgages, lines of credit, and structured financing options, to meet their clients' borrowing needs.
Privacy and Confidentiality:
Maintaining privacy and confidentiality is paramount in private banking. Private banks understand the importance of protecting their client's sensitive financial information. They implement strict security measures and adhere to robust data protection regulations to safeguard client data and transactions. This commitment to privacy is essential for high-net-worth individuals who value discretion in their financial affairs.
Private banks analyse the client's financial situation, evaluate investment opportunities, and provide guidance on asset allocation. Private banking services often include investment management, estate planning, tax advisory, trust services, philanthropic planning, and access to exclusive investment opportunities like private equity and hedge funds.
Benefits of Private Banking:
1. Personalized Service: Private banking offers highly personalised service, considering each client's unique financial needs and goals. The relationship manager acts as a trusted advisor, crafting tailored solutions and regularly reviewing the client's financial portfolio.
2. Comprehensive Wealth Management: Private banks provide a wide range of financial services under one roof, streamlining the management of various aspects of a client's wealth. This integrated approach ensures cohesive strategies and efficient coordination across investments, tax planning, estate planning, and more.
3. Exclusive Investment Opportunities: Private banking often opens doors to exclusive investment opportunities not accessible to regular retail investors. These include private equity investments, venture capital funds, and hedge funds, which can yield higher returns and diversify investment portfolios. 
4. Access to Specialist Expertise: Private banks employ teams of experienced professionals, including investment analysts, tax advisors, estate planners, and legal experts. Clients benefit from their specialised knowledge and guidance in complex financial matters, allowing for informed decision-making.
5. Concierge Services: Private banks often extend concierge services to their clients, catering to their lifestyle needs beyond finance. These services may include travel arrangements, luxury asset management, art advisory, and access to premium events and experiences.
6. Enhanced Privacy and Confidentiality: Privacy and confidentiality are paramount in private banking. Institutions go to great lengths to safeguard their clients' sensitive financial information and maintain discreet banking relationships.
While private banking offers numerous benefits, it is essential to note that it is typically reserved for clients who meet certain asset thresholds. Private banks often require a minimum level of investable assets, which can vary depending on the institution. This exclusivity ensures that clients receive the specialised services and attention they require.
Did you know?
Private banks often offer their clients access to unique experiences such as art auctions, VIP events, and luxury travel opportunities. Private banking isn't just about financial services; it also opens doors to exclusive and unforgettable experiences that money can't always buy!
Private Banking Simplified with NTT DATA Payment Services
NTT DATA Payment Services is India's most trusted payment gateway service provider. You can make your banking seamless and get access to 256-bit encrypted security for your data. You make large money transactions using NTT DATA Payment Service with high protection and the best support.
NTT DATA Payment Services offers a complete payment solution to advance your offline and online businesses from,
We ensure maximum comfort, convenience, and safety for all your payments.
Private Banking Unveiled: Empowering Wealth and Securing.
In conclusion, private banking is a specialised form of banking that caters to the unique needs of high-net-worth individuals and families. Private banking provides a comprehensive suite of benefits for affluent clients through personalised service, comprehensive wealth management, exclusive investment opportunities, and access to specialist expertise. 
By demystifying the workings & benefits of private banking, you can make informed decisions about whether private banking aligns with your financial goals and aspirations.
FAQs
What are the benefits of private banking?
Private banks offer higher levels of security, personalised financial planning services, special credit and debit cards, and access to elite investment opportunities.
What is the purpose of private banking?
Private banking, associated with exclusivity, is a financial service tailored to high-net-worth individuals (HNWIs) seeking personalised financial management and comprehensive wealth solutions.
What are the products of private banking?
Some of the products offered by private banking include
Fixed-income securities
Equities
Structured products
Heavy deposits 
Foreign exchange
Real-estate investments. 
How does a private bank work?
Private banking is a service offered to high-net-worth individuals (HNWIs) to manage their banking and financial affairs. Private banks often require a minimum level of investable assets, which can vary depending on the institution.
What is the classification of private banks?
There are two types of sector banks in India
Old private-sector banks
New private-sector banks
Old private banks were licensed and established under the previous banking regulations and guidelines that were in place before the liberalisation era. On the other hand, new private banks were established under the revised framework and regulations implemented by the RBI post-liberalisation.