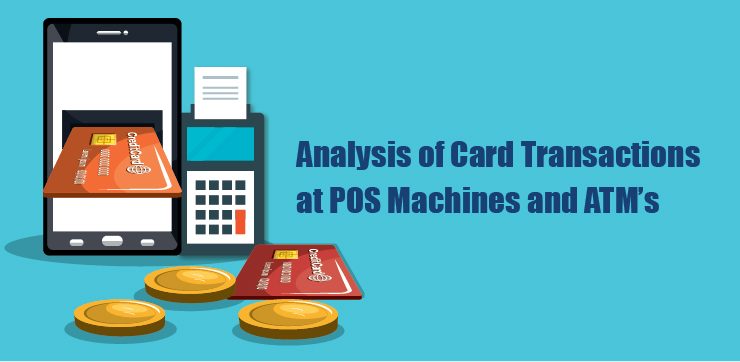 The last few years have been crucial for India as the nation together strives to achieve the famous Government initiative "Digital India". Whilst some of the population are still in the dark about what the term means others are hooked to the system already!
So, does that mean, we are close to our initiative?
The honest answer to this question would be somewhere in between Maybe to No. The struggle is real, and so will the outcome be!
Let's investigate a few statistics that show Card Transaction at POS Machine and ATM:
Demonetization in India has clearly had an impact on the digital run. The ratio of usage of Debit & Credit Cards at POS Terminals to ATM withdrawals for cash grew by 3.6 times in last 7 years.
Latest data released by RBI shows, customers these days are increasingly making payments via debit cards on swipe machines at kirana stores and local retail outlets. Study shows over a third of all debit card transactions were made at point of sale (PoS) terminals in April this year for the first time since demonetisation.
With about 80-crore withdrawals worth ₹2.84 lakh crore in April, ATM transactions made for just over 66% of overall debit card transaction volume. PoS machines registered the rest 34% of the transaction volume in this period.
Another RBI data shows an influx in the transaction at POS machines in comparison to ATM's. The transaction rose from 68.6% to 31.4% for ATMs and POS in March this year while in January, ATMs made up for over 70% of debit card transaction volume share.
Due to high set-up and maintenance cost involved, banks have barely added 7000 ATM's to their fleet of 2 lakh such machines while POS deployment has grown at an annual rate of almost 39% to 37.5 lakh terminals since April 2019.
With currency in circulation surging to a new high and the number of ATM's shrinking, the average usage of ATMs is on the rise. From a mere 105 transactions a day recorded after the demonetisation in April 2017, average daily transactions at ATM's have gone up to 130 in April 2019.
Banks these days are issuing more debit cards for the convenience of their customers. During the demonetisation process, the number of debit cards stood at 78 crores and the same went up to 88 crores in April 2019 alone.
Given the rentals are low in Tier II and Tier III cities, ATM usage is picking up in rural India and so is its viability. In June 14, 2019, currency in circulation stood at Rs 22.19 lakh crore and in April 2017, the amount stood at Rs 14.17 lakh crore.
Another development that is expected to boost ATM usage is the activation of the Pradhan Mantri Jan Dhan Yojana accounts. The PM-Kisan scheme credits Rs 2,000 every quarter into the accounts of low-income farmers.
ATM's in India are yet to reach a saturation level, considering that the average ATM per one lakh adults in India is around 22, which is half the global average.
A healthy eco-system should allow its customers to use both Digital as well as ATM for transactional and operational purpose. This will not only bring large segments of the unserved & unprivileged population under the Financial Inclusion umbrella but also help India grow together as one "Digital India".
The Reserve Bank of India, in its payments vision document published in May 2019, has set an objective of achieving a POS-based debit card transaction share of 44% by 2021 and push India's goal of a lesscash digital economy. With increasing number of banks and financial institution, both public sector and private sector are aggressively deploying swipe machines across the country. Bankers say that card based digital transactions are set to gain share from here on!
Below are a few graphical representations depicting the growth of India in the Card Payment forefront and how far we have come over the years: