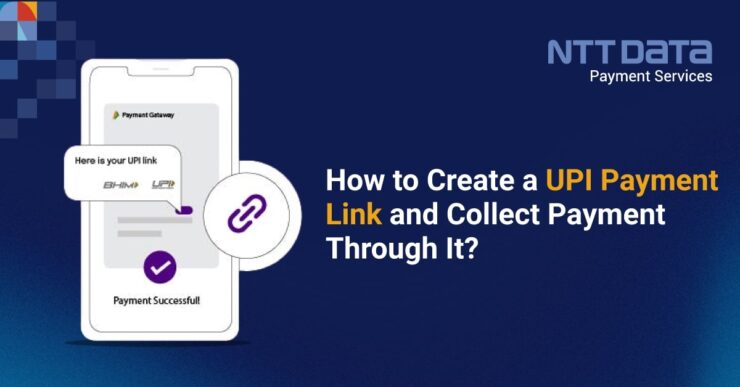 UPI, short for Unified Payments Interface, has revolutionized how we transact digitally in India. With its convenience, UPI payment links have become an essential tool for businesses and individuals alike, providing a seamless and secure platform for monetary exchanges.
According to the National Payments Corporation of India (NPCI), there were a total of 74.05 billion UPI transactions in India in 2022.
 The value of these transactions was ₹126 trillion.
In this blog, we will walk you through the step-by-step process of generating a UPI payment link and explore the various use cases and benefits it offers.
Whether you are an individual, a small business owner, or an entrepreneur, it is vital to understand the importance of a UPI payment link for streamlining your financial transactions.
What Are UPI Payment Links?
UPI payment links are a convenient and effective method of collecting payments. They are a type of digital payment link that customers can get via SMS, email, or other messaging applications.
When a customer clicks the link, they are directed to a payment page where they can enter their UPI ID  and the amount they wish to pay. The payment will be completed promptly, and the funds will be deposited into the merchant's bank account.
These links eliminate the need to provide bank account information or QR codes, allowing for faster and more seamless transactions. UPI payment links can be tailored to include specific payment amounts, descriptions, and even expiry dates, allowing for greater flexibility and security.
Where Can You Use Them?
UPI payment links can be used in various scenarios to collect payments conveniently. Here are some common use cases:
1. eCommerce Platforms
Customers can make quick and safe payments upon checkout through UPI payment links on e-commerce platforms.
2. Service Providers
Freelancers, consultants, and service providers can send UPI payment links to their clients, allowing them to pay for the services delivered.
3. Small Businesses
Payment links using UPI also work well for small businesses. Customers can make payments easily by sharing them via messaging applications, email, or social media.
4. Fundraising Campaigns
NGOs can also use UPI payment links to collect donations during fundraising campaigns.
5. Peer-To-Peer Transactions
UPI enables people to request or receive funds from their friends, family, or acquaintances to pay for shared expenses, gifts, or personal transactions.
Benefits Of Using UPI Payment Links
There are several benefits to using UPI payment links:
1. Convenience
They eliminate the need to share bank account information or scan QR codes, simplifying the payment procedure.
2. Easy Integration
UPI payment links are simple to add to websites, mobile apps, and even chat systems.
3. Security
UPI payment links rely on the security capabilities of UPI-enabled apps to encrypt and secure transactions.
4. Customisation
Customization options for UPI payment links include selecting payment amounts, adding descriptions, and setting expiry dates.
5. Wide Acceptance
UPI has gained widespread acceptance in India, with millions of users and numerous UPI-enabled apps available. This means that UPI payment links can be used with many customers and clients, making it a versatile payment collection method.
How To Create A Payment Link For Upi?
You can create a UPI payment link either through a payment gateway service or a UPI app.
Here is the step-by-step process to create one through both ways:
Creating a Payment Link through a Payment Gateway Service
Sign up for a payment gateway service
After you've created an account, you'll need to add your bank account information.
You can then establish a payment link by entering the following information:
Amount
The UPI ID of the recipient
Your own UPI ID
Payment description
Expiry date
4. You can share the payment link with the receiver once it has been created.
Creating a Payment Link through the UPI App
Open the UPI app on your mobile device.
Select the "Send Money" option.
Choose the option to generate a payment link.
Enter the following information:
Name, email address, or phone number of the recipient
Amount
Expiry date
Payment description
Select the "Create Link" option
5. The payment link will be created, which you can then share with the recipient.
What Is The Daily Limit Of UPI Payment?
The daily UPI payment limit is Rs. 1 lakh. The National Payments Corporation of India (NPCI) establishes this limit. Some banks, however, may have lower limits. You can inquire about your bank's daily limit by contacting them.
You can also increase the daily limit of your UPI payment by following these steps:
Log in to your bank's website or app
Go to the "UPI" section
Click on Settings > Daily Limit
Enter the amount you want to increase the limit to
Click on "Submit"
Your request will be reviewed by your bank and might get approved. The increased limit will then be applied to your UPI account as soon as your request is approved.
Do keep in mind that the daily UPI payment limit applies to all transactions, including P2P and P2M transactions. If you need to make a huge transaction, contact your bank and seek a one-time limit increase.
Choose from 100+ payment options with NTT DATA Payment Services
With UPI (Unified Payments Interface), you can generate personalized payment links that allow your customers to make seamless transactions directly from their bank accounts. Simply share the link, and they can pay instantly with ease.
NTT DATA Payment Services offers a complete payment solution to advance both your offline and online businesses. From online payment gateway and POS to IVR payments, mobile applications and Bharat QR Scan and Pay, we ensure maximum comfort, convenience, and safety for all your payments.
Conclusion
Understanding how to create a UPI payment link and effectively collecting payments through it is an invaluable skill in today's digital world.
By following this blog's step-by-step process, you can easily generate UPI payment links and seamlessly collect payments from customers, clients, or friends.
Whether you're a small business owner, a freelancer, or an individual looking for a hassle-free payment method, UPI payment links offer a versatile and efficient solution.
FAQs
1. How to generate a UPI payment link?
A payment gateway service can be used to generate a UPI payment link. After creating an account with the platform, you can choose to create a UPI payment link.
2. What is the UPI payment method?
UPI is an abbreviation for Unified Payments Interface. It is a National Payments Corporation of India's (NPCI) immediate real-time payment system that facilitates inter-bank peer-to-peer (P2P) and person-to-merchant (P2M) transactions.
3. How to create a GPay payment link?
You can use the Google Pay website or app to generate a GPay payment link. After logging into your Google Pay account, click the "Send Money" button and choose the option to create a payment link.