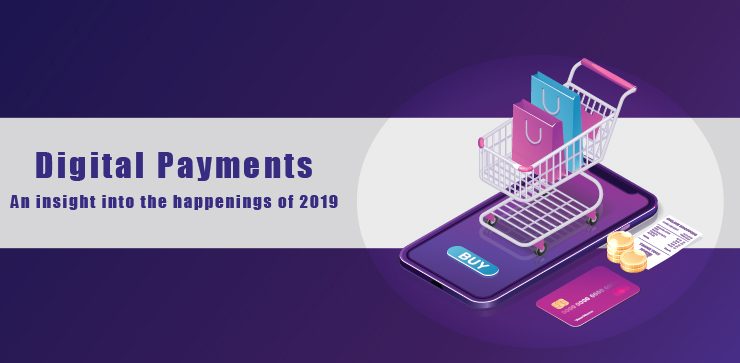 2019 marked an immense growth in the field of digital payments. The landscape, which is driven by compelling value propositions, favorable infrastructure, supportive regulations, and next-generation technological advancements, has been escalating in multi-folds. The growth in the Indian digital payments arena altogether, from Financial Year 2018 to Financial Year 2019 was recorded to be a whopping 383% This entailed consolidation of payment modes like IMPS, UPI, transactions through credit and debit cards, etc.
Since its inception, 2019 has been successful in recording groundbreaking data when it comes to digital payments platforms. The ever-growing mobile and application-based payments landscape is also adding fuel to fire. Nevertheless, with this uniquely rich payment ecosystem heritage, India is finally emerging as a global leader in the innovative digital payments landscape, witnessing the best growth period of its time.

But, before we look forward to next year and the intricacies surrounding digital payments, let's take a step back, rewind and take a closer look at the top achievements in the field of digital payments, the previous year!
UPI
UPI or Unified Payments Interface powers multiple bank accounts into a single mobile application thereby, merging several banking features and allowing seamless fund routing.
UPI has been successful in recording a breakthrough 955 million in transaction volume in September 2019.
According to Worldline, an Indian digital payments report, the total volume of UPI transactions in Quarter 2 2019 was 2.2 billion, a 263% increase from Quarter 2 last year. In terms of value, UPI clocked INR 4.4 trillion, up 336% when compared to Quarter 2, last year.
According to RBI, transactions through UPI witnessed an eight-fold increase in terms of value, over the previous year where the average value per transaction stood at Rs 1,670 in March 2019.
Fascinatingly, UPI transactions have almost doubled over the last 11 months. They escalated from 673 million in January to 1.22 billion in November.
The total number of transactions through UPI recorded an all-time high of 918.3 million in August 2019 and was at INR 1.54 trillion, against INR 1.46 trillion in July.
National Payments Corporation of India (NPCI), in close coordination with Bank of India and AGS Transact Technologies, is in the process of rolling out a system of UPI-enabled cash withdrawal through ATMs allowing customers to withdraw cash through UPI.
A new version of UPI, UPI 2.0 has rolled out which includes new features such as electronic mandates which allow users to pre-authorize transactions through digital signatures and biometric verification.
Some of the most used payment apps on mobile interface functioning over UPI platform includes BHIM, Google Pay, Paytm, PhonePe and WhatsApp Payments.
IMPS-
IMPS or Immediate Payment Service provides real time fund transfer system, offering an instant, 24X7, interbank electronic fund transfer service that could be accessed on multiple channels like Mobile, Internet, ATM, SMS etc.
IMPS continued to rise despite the growth in UPI and wallets and continued its strong growth in Quarter 2 2019 recording 539 million transactions, a 56% increase from Q2 of the previous year. In terms of value, IMPS clocked INR 5.2 trillion, up 61% from Q2 of the previous year.
It successfully recorded approximately 200.14 million transactions in August 2019. The daily transaction volume of IMPS grew from 2 million in 2017 to 2.8 million (approx.) in 2018 estimating a ten-fold and an eight-fold surge in transactions value and volume.
The platform was facilitated with being the best digital payment innovation globally by a US based research firm Fidelity National Information Services, being the highest rated in FIS' 'Faster Payments Index, claiming the crown of being the best innovation worldwide.
MDR-
MDR or Merchant Discount Rates are the charges levied by the merchant every time a customer swipes and make payments through a debit or a credit card.
In January 2019, RBI decided to rationalize MDR in order to promote small and medium merchants to accept payments through debit and credit card.
Merchants with over Rs. 20 lakh turnovers had a fixed MDR of 0.4 per cent if the transaction was done through point of sale machines. For these merchants the MDR was further reduced to 0.3 per cent if the transaction was done through QR Code.
Later, MDR was revised to 0.30 per cent with a maximum cap of Rs.100 per transaction. Initially, it was capped at 0.25 per cent for transactions up to Rs. 2,000 and at 0.65 per cent for transactions above Rs. 2,000.
September 2019 witnessed the slash of MDR charges by NPCI, in a bid to encourage small and big retailers across the country. This means that government will bear the cost of MDR levied on transactions of or below INR 2000.
As per the latest notification, the commencement of October 2019 will entail revised 0.06% MDR above the transactions of INR 2000. This was previously capped at 0.06% for transactions above INR 2000 with a higher cap of INR 1000 per transaction
Card Payments-
When talking about processing payments through debit and credit cards have always been the king. As per RBI's statement in March, card transactions have recorded a nine-fold increase over a span of five years.
Debit card usage on POS machine grew by 32% and 29% for value and volume, respectively, during 2018-2019.
Volume of cards in point-of-sale (POS) transactions grew by 30.1% during 2018-19 and in value terms, by 30.2%
Credit cards witnessed a higher growth of 25.4% and 31.4% in volume and value, respectively, during 2018-19.
According to Worldline, the total number of credit card transactions recorded in Quarter 2 2019, were 505 million, an increase of 23.7% over the previous year. The total number of debit card transactions were 3.6 billion, an increase of 12.5% over the previous year.
The growth and development in the field of digital payments is through the roof. 2019 has brought about immense development in FinTech and we can only look forward to the growth this industry awaits to showcase in the coming years.