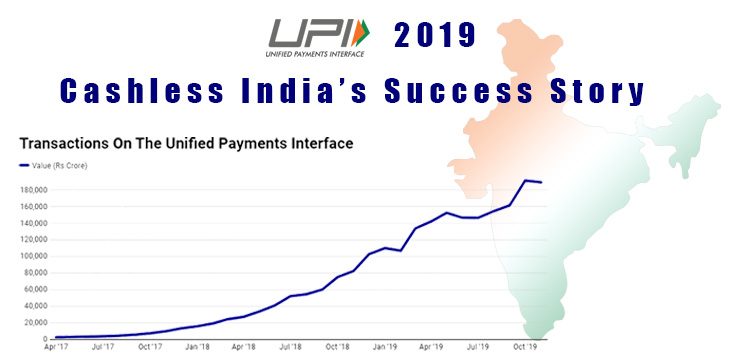 Unified Payments Interface or UPI is an immediate system of accepting digital payments that helps transferring funds between bank accounts through a simple mobile platform. A two-factor authentication system with effortless single click payment system, UPI uses virtual payment address, a unique ID, to make payments.
Since its inception in 2016, the growth in transactions by UPI have been ground-breaking. However, the Quarter 2 2019 marked a period of steady but unenthusiastic growth in the field of accepting UPI payments.
Here are a few points to help you understand and take a closer look at what UPI has achieved so far.
UPI recorded a rapid growth since Financial Year 2016-17 with the transaction volume and value being 17.86 million and INR 69.47 billion respectively. Financial Year 2017-18 (April-March) recorded a breakthrough volume and value of 915.23 million and INR 1098.32 billion. The figures show a moderate decline in Financial Year 2018-19 with the transaction volume and value of 625.92 million and INR 1011.44 billion.
Post three years of its inception, UPI marked 10 percent of India's GDP, including 800 million monthly transactions valued at $19 billion approximate. The first four years witnessed rapid growth in its adoption, with 1 lac transactions every month to 77 million, to 480 million, to soaring up to a 1.15 billion transactions every month.
The total volume of UPI transactions in Quarter 2 2019 was 2.2 billion, a 263% increase from Quarter 2 last year. In terms of value, UPI clocked INR 4.4 trillion, up 336% when compared to Quarter 2, last year.
September 2019 recorded 955.02 million successful UPI transactions worth INR 1,61,456.56 crore. It has also shown a growth of 4% in terms of volume and a 4.5% rise in transaction value from August.
October 2019 witnessed a record high of INR 1.91 lac crores as compared to INR 75000 crore, in October 2018, through the UPI platform.
November 2019 chronicled 1.2 billion transactions made through UPI, adding up to INR 1.9 lac crore, according to the data published by NPCI.
BHIM a quick and seamless digital payment application that accept payments through UPI, recorded transactions worth INR 458.45 billion and 235 million in terms of value and volume in the month of July 2018.
Starting off with just 21 banks in August 2016, UPI has successfully managed to onboard and is live with 141 banks in August 2019.
UPI overtook mobile wallets in terms of transactions volume and value in March 2019.
Moguls of the payment industry, Google Pay, PhonePe and Paytm collectively process more than 90% of UPI transactions where Google Pay leads in terms of both transactions volume and amount.
A series of debut players such as Amazon Pay, Mi Pay and WhatsApp Pay have stepped in the market adding fuel to the momentum of the UPI ecosystem.
According to an Economic Times report, the leader Google Pay chronicled a whopping 301 million in transactions volume and INR 592 billion in transactions value in July 2019. PhonePe recorded 296 million and INR 505 billion respectively whereas, Paytm documented 133 million and INR 205 in volume and value.
The user base of Google Pay grew three-fold to reach 67 million in September this year, up from 22 million in the same month, last year.
The new version of UPI, UPI 2.0 has rolled out which includes new features such as electronic mandates which allow users to pre-authorize transactions through digital signatures and biometric verification.
According to a report on digital payments landscape by Boston Consulting Group, UPI would dominate the payments space with 59% payments transactions, followed by mobile and internet-based payments.
In order to end the fight for commanding more market share, NPCI has decided to put a cap on the market share to a maximum of 33% from April 2020.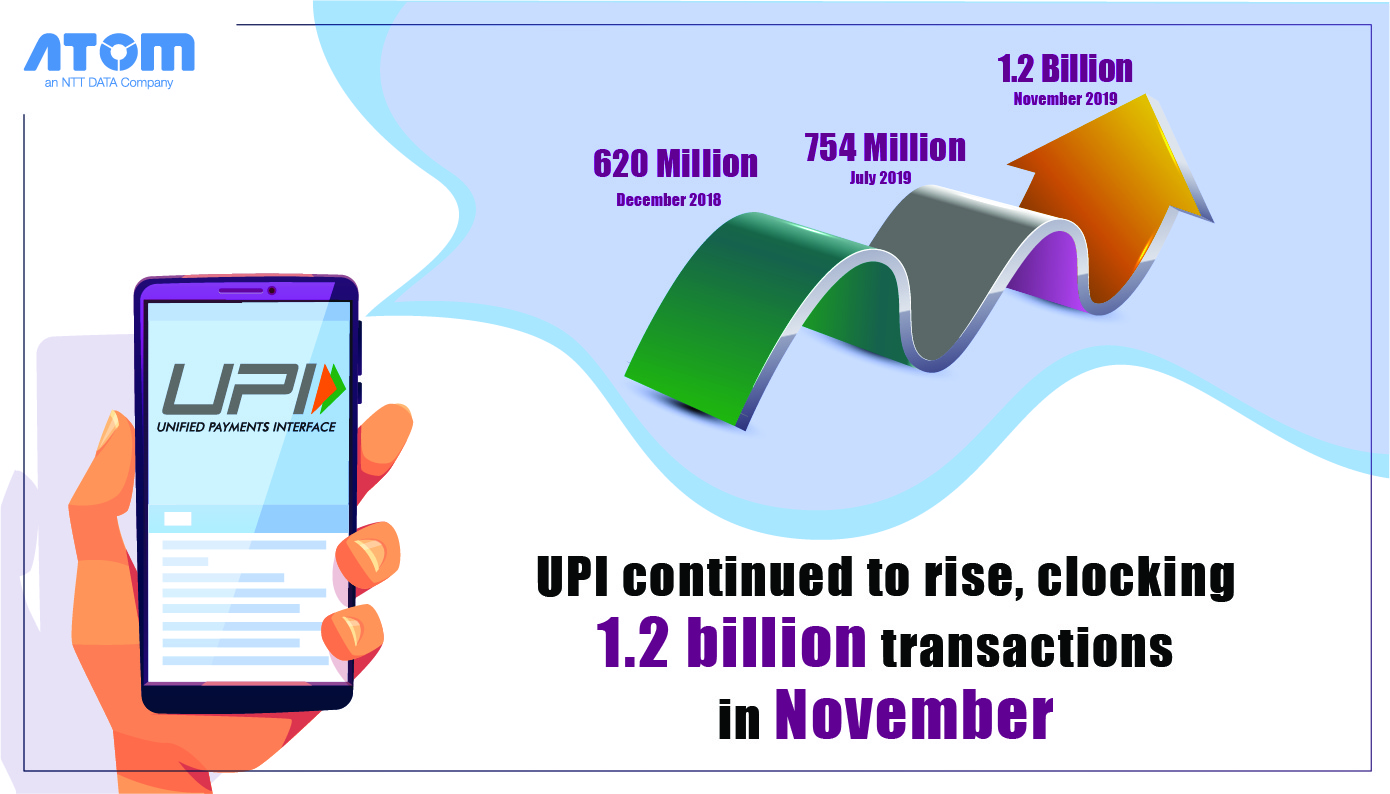 What can we expect from UPI?
Making cash withdrawal through ATM a seamless process, NPCI, in close coordination with Bank of India and AGS Transact Technologies, is in the process of rolling out a system of UPI-enabled cash withdrawal through your debit card. Post enablement of the service, the customers will be able to withdraw cash simply by scanning the QR code or through UPI app, disregarding the use of credit and debit cards altogether.
The Reserve Bank of India expects the number of digital transactions to almost quadruple from 20.69 billion in December 2018 to 87.07 billion in December 2021.
With the ever-growing response of UPI, Credit Suisse, a leading financial services company, estimates that the consumer and SME loan market would grow from $600 billion to $3020 billion in the next 10 years.
NPCI sets up a subsidiary to export UPI for governments and central banks interested in the implementation of a similar application for fund transfer, in their countries.
The constant surge in the figures of digital transactions show that UPI has been successful in proving itself in the FinTech landscape. With a promising future and the ability to reach significant milestones recurrently, we are looking forward to exploring how UPI will further impact digital payments in India. With the constant innovation in the FinTech sector, acquaint your business with the power of digital payment modes like UPI, by simply onboarding with NTT DATA PAY and deliver your customers with seamless experience whilst elevating your business to greater heights.