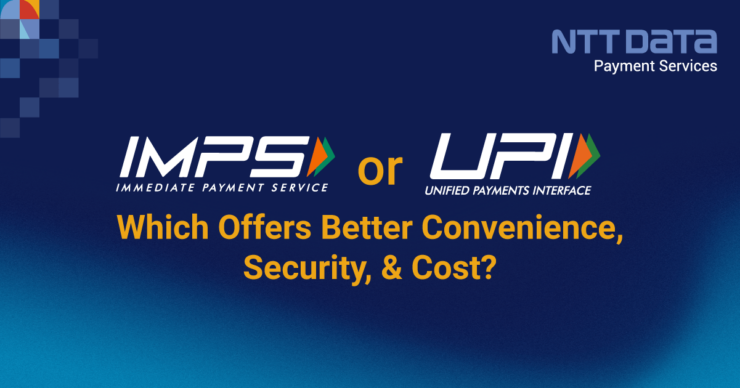 With the increasing dependency on digital payments, you must know how to choose the best payment gateway for your business that can provide the best convenience, security, and cost-effectiveness. 
NTT DATA Payment Services is both a payment service provider and a payment gateway, providing secure and efficient transactions of payments. NTT DATA Payment Services renders multiple payment methods with over 100+ options. 
In India, the most popular digital payment systems are IMPS and UPI, offering quick and easy money transfers. To determine which payment method is better and to know the right fit for your business, it is crucial to consider their features, transaction types, security, and charges included. 
Read the entire blog to know the comparison of IMPS and UPI on the key factors of convenience, security, and cost.
What are IMPS and UPI?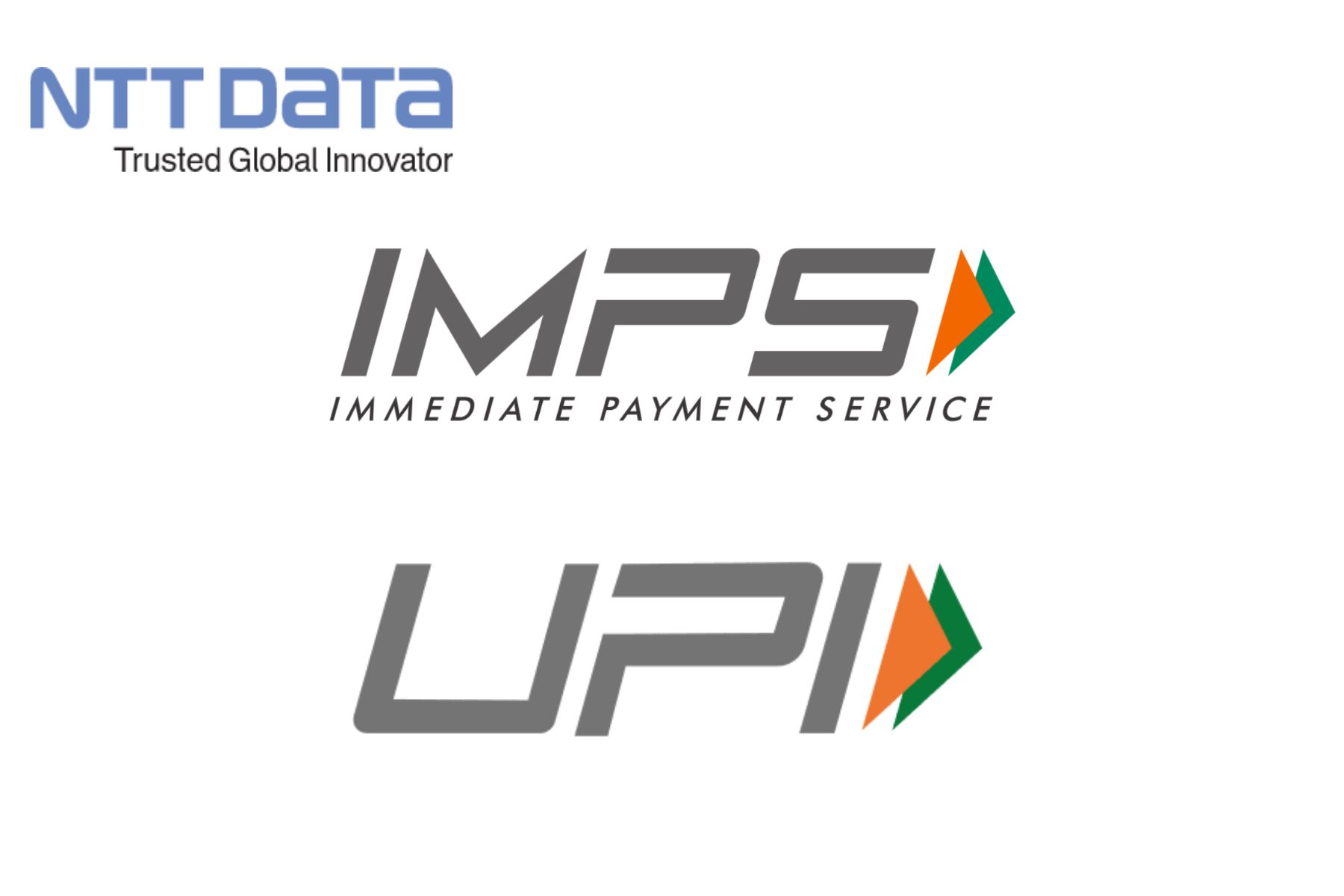 IMPS (Immediate Payment Service) and UPI (Unified Payments Interface) are both popular electronic funds transfer methods used in India. 
IMPS is a system that aids customers in quickly and easily transferring money from one bank account to another. 
This real-time interbank service can be used 24/7, with transfers of up to Rs. 5 lakhs per day being supported via mobile phones, internet banking, or ATMs.
UPI, a government-backed initiative developed by the National Payments Corporation of India, provides customers with an electronic funds transfer system to instantly transact money between bank accounts on their mobile devices. 
Through this service, customers get access to 24/7 transactions, with a limit of up to Rs. 1 lakh per transaction.
Both IMPS and UPI have grown in popularity in India, resulting in an increase in digital payments. 
UPI offers something that IMPS does not, with the ability to link multiple bank accounts to a single UPI ID, while IMPS requires a separate registration for each bank account.
IMPS Vs UPI: The Difference
| | | |
| --- | --- | --- |
| Aspects | IMPS  | UPI |
| Transaction limit | Rs. 5 lakhs per day. | Rs. 1 lakh per day. |
| Charges | Charges range from Rs. 3.50 to Rs.15+ GST depending on the transaction amount.  | There are currently no transaction fees for UPI payments.  |
| Use | IMPS is not widely used when compared to UPI. | UPI is the most popular and widely used translation method. |
| Transaction method | The money can be transferred through different methods, including account number and IFSC code, SMS banking, and MMID. | UPI payments require a smartphone and an app. |
IMPS or UPI: Which One is Better for you?
There are many factors to consider when choosing a payment system, but convenience, security, and cost are among the most important. 
IMPS and UPI are both popular payment systems in India, but which one is better for convenience, security, and cost?
IMPS offers more convenience than UPI because it doesn't require two-factor authentication as UPI does. 
Though there are many advantages and disadvantages of IMPS payment, UPI payment has some advantages over it, such as the ability to make payments using a Virtual Payment Address (VPA) instead of sharing bank account details. 
Through UPI, you can send money to multiple people at once and can be integrated with many banks in India. 
Some UPI apps offer rewards and cashback on transactions, which can make it more cost-effective for users. 
Also, some banks may charge a transaction fee for IMPS transfers, though it is not as commonly or widely used compared to UPI. 
Ultimately, the choice between IMPS and UPI will depend on the user's specific needs and preferences.
Pros and Cons of IMPS 
| | |
| --- | --- |
| Pros of IMPS | Cons of IMPS |
| IMPS is a quick and convenient way to make payments, as transactions are processed instantly and can be done anytime, anywhere. | Charges associated with using IMPS depend on the bank or service provider. |
| IMPS transactions are safe and secure, as they are carried out through a secure banking network. | IMPS is not more secure than UPI because it doesn't have an additional layer of security. |
| There are no transaction fees for using IMPS at most banks, except some banks may charge a nominal fee for certain types of transactions. |   |
| Any bank customer with an internet-enabled mobile phone can use IMPS, provided they have registered for the service and have the required credentials. |   |
Pros and Cons UPI
| | |
| --- | --- |
| Pros of UPI | Cons of UPI |
| UPI enables customers to make payments directly from their bank account without having to go through the hassle of entering debit/credit card details or net banking credentials. All you need is your smartphone and the UPI app installed on it. | As not many people know what UPI is and how it works, it becomes a hindrance to the growth of UPI. |
| UPI is a highly secure platform as it uses multiple layers of security, including Two Factor Authentication.  | UPI payments require a smartphone, which excludes those without one. |
| With UPI, customers can save a lot of time. You need to send a request via the UPI app, and the funds will be transferred instantly. |   |
| UPI has a wide reach as it is supported by all major banks in India. One of the major advantages is that one can make UPI payments without the internet. Customers will find it easier to make payments as a result of this. |   |
NTT DATA Payment Services for all your Digital Payment Needs
NTT DATA Payment Service offers a comprehensive payment solution for both large and small businesses, which includes payment gateway services. Payment gateway features include multi-bank EMI, multiple payment options, easy retry option, invoice payment, and payment options such as debit cards, credit cards, net banking, challan, UPI, Bharat QR Scan and Pay, Wallets, NEFT/RTGS, much more. Our payment solution is for the most efficient, convenient, and secured transactions. 
Conclusion 
To conclude, IMPS is a real-time interbank electronic fund transfer system that allows customers to transfer money from their bank account to any other bank account instantly, 24/7, throughout the year. It is an initiative of the National Payments Corporation of India (NPCI) and was launched in November 2010. 
On the other hand, UPI is a mobile-based payment system developed by NPCI that allows customers to transfer money between bank accounts through a mobile device using a Virtual Payment Address (VPA). UPI has gained popularity among users due to its ease of use and seamless integration with mobile banking apps.
Both IMPS and UPI are secure payment systems, ensuring the safety of transactions. They are also cost-effective, with no or minimal charges for transactions, making them popular among customers. Ultimately, the best payment method will depend on your individual needs and preferences.
FAQs
1. What is the difference between UPI and IMPS?
IMPS is an interbank electronic instant mobile money transfer service through which customers can send and receive money in real-time. UPI technology allows different bank accounts to be accessed using a single mobile application. Both allow you to instantly send or receive money.
2. What is the transaction limit for IMPS?
The IMPS transaction limit is Rs. 5 lakhs per day.
3. Which one offers better security?
UPI offers better security when compared to IMPS, as it has an additional step of two-factor authentication.
4. Which one is more cost-effective?
UPI transactions are typically cost-effective, as there are no transaction fees.