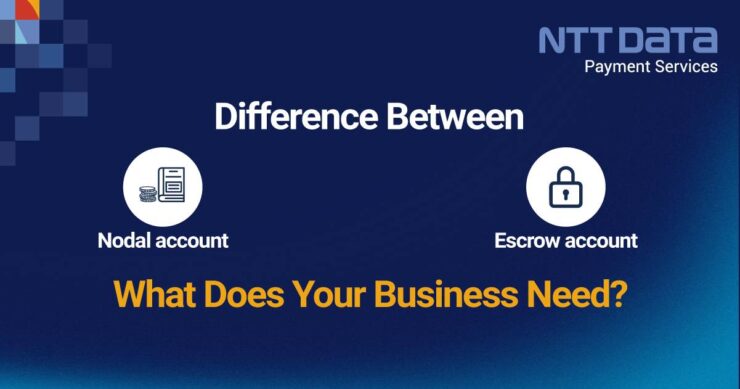 As someone owning an online business, are you quite confused between a nodal account and an escrow account? Don't worry, this blog will help you understand the difference between the two and guide you through the process of selecting the one that best suits your business type. Keep reading to know more.
Running a business in today's digital world is a complex and risky task, compared to the olden days. Thanks to online commerce, businesses are now able to sell to and source from a huge number of sellers and vendors. Everything can be done and paid for online, from booking a cab and ordering food to attending educational courses. However, to deliver this kind of convenience, the backend operations must run smoothly and effectively.
For their operations to be secure and reliable, businesses require a set of specific types of accounts. A number of parties, including consumers, clients, vendors, logistics, etc., are involved in the payment processes in businesses. The efficient flow of funds between them ensures the business's smooth operation. For this reason, the right account must be used.
Nodal and Escrow are two unique types of bank accounts that were created primarily to manage these challenging money transfers that e-commerce businesses must deal with.
In this blog, you will learn the difference between a nodal account and an escrow account and which one suits your business best.
Nodal Account vs Escrow Account: What's the difference?
NODAL ACCOUNT
What is it? Nodal accounts, also known as nodal banks, are special internal bank accounts required by the RBI for businesses that act as intermediaries between buyers and sellers. Your business is considered an 'intermediary' if:
you pay your vendors on their behalf
source things without manufacturing them yourself, and/or
when the cost of the products or stock inventory is not fully covered
Since there are many parties involved, 'trust' is an essential factor in businesses like this. Additionally, nodal accounts make it simple to control money flow and promote transparency.
Therefore, in order to receive and disburse payments on time, intermediaries must maintain this internal bank account in accordance with RBI standards under the Payment and Settlement Systems Act. In order to open the nodal account and be qualified for it, the intermediaries would need to comply with the terms and conditions in the agreement made with the bank.
Each bank has its own requirements for determining whether you qualify to open a nodal account. In general, the bank considers the cash invested and the company's reputation before it lets them open the account.
ESCROW ACCOUNT
An escrow account is a temporary vault of funds maintained by a reliable third party on behalf of two parties engaged in a transaction that is bound by a contract. Escrow accounts are typically used in the following situations:
when a seller and a buyer have never met before
when the agreement is complex and extensive
when the contract is of high payment value
where payment is required based on the project's progress toward completion (Eg. a real estate purchase)
An escrow account is majorly used in real estate and construction contracts as they are long-term projects with high-value.
For example, a real estate developer needs a big investment to start a project. But since the customer cannot fully invest in it without having faith in him, the customer makes use of an escrow account. He can put his money in escrow accounts according to the amount of work finished rather than paying the developer directly. And if there are any problems in the project mid-way, the buyer can request the third party to stop the flow of funds in the escrow account. This way, both parties can ensure a fair and secure transaction.
Escrow reduces the potential risk involved in a transaction where the buyer is entirely unknown to the seller. It acts as buyer protection and protects them from financial loss resulting from defective, damaged, or unsatisfactory goods or services.
Escrow services are offered by many third parties and not always banks. They can be used for both big and small transactions, regardless of the size of the transaction.
Differences between Nodal Account and Escrow Account
| | |
| --- | --- |
| NODAL ACCOUNT | ESCROW ACCOUNT |
| Only businesses that act as intermediaries are eligible for a nodal account. | Escrows can be used for almost any transaction. |
| Any payments made to a nodal account are moved to it before being distributed to the right payees, such as sellers and logistics. | The buyer and seller in an escrow have never met, but they both have faith that the escrow agent will act ethically. |
| The nodal account's disbursement has a defined settlement cycle. | The escrow account's payout is completed after the contract has been fulfilled. |
Which of these accounts does your business need?
To summarise, your company would need a nodal or escrow account if:
You serve as an intermediary between buyers and sellers in the business world
Your line of work involves transactions with two or more unidentified parties.
The nature of your business includes concluding transactions that are complex, long, or have a significant transaction value.
Conclusion
The complexity of the business world has led to the use of both nodal and escrow accounts. Each has its own rules that were developed to make conducting business transparently and conveniently.
We hope this blog helped you understand the differences between a nodal account and an escrow account. While a current account is necessary for all businesses by default, the real question is whether your business needs a nodal account or escrow account. You can select the account based on your business type and needs.
If you are a business owner in need of payment solutions, NTT DATA Payments Services offers a seamless experience of accepting and managing payments online. From payment gateways, POS and Mobile Apps to IVR payment services, we provide a complete solution to advance your business.
Frequently Asked Questions (FAQs)
What are the many types of escrow accounts?
There are many types of escrow accounts. They are- Real estate escrow, Mortgage escrow, Construction escrow, Renter's escrow, and Buyer's escrow.
Can a payments bank open a nodal account?
Yes, a payments bank can open a nodal account. However, a current account must be opened before opening a new nodal account. The current account can be used to create invoices and collect payments from clients or partners.
Is an escrow account a trust account?
On the surface level, a trust account is the same as an escrow account in the sense that an owner makes a prepayment or deposit through a third party for a specific item, such as mortgage insurance.
How long does money stay in an escrow account?
This varies widely depending on your situation and location. Although escrows often last for 30 days, they can last anywhere from one week to many weeks. Depending on the terms chosen by the parties, an escrow's duration may change.
What is the meaning of a single nodal account?
Finance Minister Nirmala Sitharaman launched the Single Nodal Account/Agency (SNA) dashboard in June 2022. This dashboard will offer a platform for ministries and departments to track money transfers to states, how the implementing organisations use it, and how it helps the government manage its financial flow.