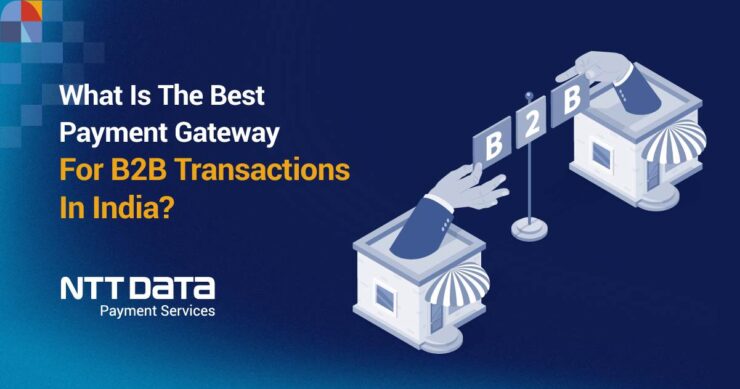 Understanding business-to-business (B2B) payments and procedures aids in determining best practices for current trends and the changing landscape that will rely on digital options. The need for payment gateways for B2B companies arose with the rise of digital payments. With expanding businesses, it became increasingly difficult for companies to pay multiple suppliers or vendors in cheques and cash.
Automation is now the driving force behind how we are paid. In the consumer market, electronic transfers have nearly replaced paper cheques. To assist you, we've compiled this comprehensive guide that will walk you through the entire B2B payment process, payment gateways for B2B transactions, trends we're seeing, popular options, and what to look for in a B2B payment solution.
What Are B2B Payments?
In general, B2B payments are the payments made between companies that work best for both in the B2B landscape scenario.
Did you know?

The B2B payments market is forecast to grow at a CAGR of 10% through 2028.Around 80% of B2B transactions will manifold and become digital by 2025,The B2B payment market will reach $553 billion by 2024.64% of companies use electronic methods for at least half of B2B payments (source)
Common B2B Payment Methods
Let us unravel several common types of B2B payment methods, which are as follows
1. Credit cards
One of the preferred payment methods ensures complete tracking of the payment details. Although credit cards have interest rates (such as an annual percentage rate (APR), when the revolving balance is paid quickly, a business gains access to additional funds. A credit card can be a handy form of payment when used as a debit card and paid off monthly.
Also Read :- How To Know Your Transactions Are Successful Using A Payment Gateway
2. Automated clearing house payments
These are another form of B2B payments that are cost-effective and faster than other methods. They've also become typical for business-to-business transactions, with 93 percent of workers receiving payment via direct deposit, according to a 2019 survey. According to NACHA, ACH payments will soon account for roughly half of all B2B payments. It is one of the most common ways of tracking cash flow statements.
3. Wire Transfers
Much like ACG, wire transfers are another form of digital payment that facilitates B2B transactions. According to Glenbrook, wire transfers account for less than 1% of total B2B payments but account for 93% of the total amount because they are frequently high-value payment transactions.
4. Payment Platforms
Platforms can transfer money electronically from one account to another. Some payment platforms are also accessible via mobile apps. A payment helps customers to make hassle-free payments, making it more convenient. NTT DATA Payment services provide 100 + digital payment options to accept online payments, ensuring a hassle-free payment option for your business-to-business transactions.

5. Payouts
Get money settled in various vendor accounts in one go.
Need For Payment Gateway By B2B Companies
Did you know that one of the main reasons to make or break a deal for a B2B company is faster and more manageable payments?
Several companies prefer to pay in bulk when purchasing supplies or services. Buyers typically prefer to pay in multiple ways via various modes. The primary reasons for having payment gateways are to solve the following:
Payment convenience is lacking.
Options are also limited.
Cheques bounce, and dealing with cash in bulk becomes difficult. As a result, implementing a payment gateway is an excellent way for the B2B industry to gain more customers.
Improved cash flow: You can quickly identify cash flow patterns by automating B2B processes (rather than relying on paper checks to make/receive payments). This enables you to make more informed decisions about where and when to spend/save.
A payment software platform allows a company to generate reports that provide an overview of the Account Payables and Accounts Receivable. This top-down transparency will enable you to identify merchants who pay on time and those who pay late and then manage those relationships accordingly.
Simplified accounting: A robust B2B payment solution can also help to streamline accounts payable and receivable. Rather than managing many checks coming and going, the software scans, records, and stores them automatically.
Enhanced security: Using digital payment platforms enables effective and safest modes of transactions.
Benefits Of Using B2B Payment Gateways
Prioritizes safety and enhances the creditworthiness of the buyer-seller relationship
Improves visibility and data reporting management.
Enhanced cash flow monitoring system and reduced admin cost during the procedure.
B2B payments have ensured to accelerate cross-border payments. 
Enhanced and modernized the global payment processes through digitization.
What Are The B2B Payment Trends?
A new payment world, Covid-19: The pandemic has created a new digital revolution, which has the chance to grow several businesses exponentially. B2B payments have also been impacted, with several companies forced to become digital.
Hassle-free payment options: Businesses also feel increased pressure to pay their bills on time, as the pandemic has hampered cash flow in many industries. Payment cycles for accounts payable and receivable are shortened using electronic payment platforms.
Smart payments: B2B transactions are typically more extensive and complex than B2C purchases; more flexible payment methods are required to accommodate them. It can boost customer loyalty and retention, encourage faster payments, and lower costs for you and your customers.
Payment automation: The need for payment automation has never been greater, especially with accounts payable teams sheltering in place during the pandemic. Although this trend was already underway, COVID-19 only accelerated it, with cloud-based systems replacing on-premise and check-printing equipment.
Instead of worrying about paper checks and manual processes, payment automation allows you to focus on core business activities.
How Do NTT DATA Payment Services Facilitate B2B Payments?
A powerful yet seamless payment gateway is designed to accept safe, secured payments for your B2B business. Accelerate your company's growth by partnering with the best online payment service provider in India, which is integrated with 50+ banks and 100+ payment options and offers transactions via UPI, Links, QR codes, and more. We combine our payment gateway effortlessly into your website, allowing your customers to pay using debit/credit cards, UPI, Bharat QR, EMI, Challan, Wallets, and Net Banking methods. 
Conclusion
We hope the above-listed pointers gave you valuable insights into how payment gateways enable B2B transactions and help to perform hassle-free payments. For more details, follow www.nttdatapay.com, and grow exponentially.
FAQs
1. What are the most popular B2B payment methods?
The most popular B2B payment methods are bank transfers, purchase orders and invoices, electronic fund transfers (EFT), commercial credit cards, ACH payments, and cash and digital payment platforms.
2. How much is the B2B transaction fee?
The B2B transaction fee is between 1.3% and 3.5% of each transaction. It varies depending on factors such as payment method, transaction volume, provider, and specific agreement between the parties involved.
3. How do B2B payment gateways differ from B2C ones?
B2B and B2C payment gateways differ in transaction volume and size, payment methods and terms, integration with business systems, security and compliance and customer support and service.