Have a payment model that allows you to get safe and secure payments for your business without all the paperwork? Read through the blog to unravel numerous vital benefits of payment facilitation for SaaS companies and other technology providers.
Any online business must have a secure method of accepting payments. When it comes to accepting credit card payments, you have two choices. The first option is to open a merchant account with a bank, while the second option is to use the payment facilitator model (PayFac).
So, if you want to start accepting payments immediately with minimal effort, the payment facilitator (PayFac) model may be the best option. This blog post explains what PayFacs are and the ten most significant advantages of using a payment facilitation model.
What is a Payment Facilitator?
Payment facilitators are middlemen who add value to the payments industry by connecting merchants with electronic payment processing services. The payment facilitator model is a newer one that provides significant benefits to both the merchants they serve and themselves, including a faster, smoother process and greater control over pricing and merchant selection.
In a nutshell, PayFacs are larger organizations with the necessary infrastructure and compliance to process payments. They can also deal with the risk that comes with moving money. The payment facilitation model is created to make it easier for small businesses to accept online payments.
Smaller businesses can sign up as sub-merchants under PayFac's master merchant account to begin accepting payments from their customers under the PayFac model. It means you can reap many benefits of having your merchant account, but with less paperwork and risk.
Other Features of the PayFac/ Payment Facilitation model include
It simplifies the process of starting to accept payments.
The payment facilitator controls and performs authentication for the flow of funds and pays them to its sub-merchants.
Auditing account activity on the platform: Putting controls in place on an ongoing basis to track and mitigate high-risk financial activity.
10 Benefits of Payment Facilitation
Payment facilitators' primary service to merchants is the ability to accept online and in-store credit and debit payments. On the other hand, payment facilitators can provide merchants with value-added services ranging from gateway services to additional fraud protection.
1. Quick acceptance of payments: Signing up for a PayFac account is quick and straightforward. The onboarding process is sped up with a PayFac account, and you can start accepting payments immediately.
Because the payment facilitator is the master merchant account, your company is classified as a sub-merchant. There is usually only a simple form to fill out, and no reams of documentation are required.
2. Fewer compliance regulations: Banks and payment processors accept some risk by allowing businesses to open merchant accounts. Companies must undergo an underwriting process before being approved to open a merchant account.
Fortunately, the Payment facilitation model has fewer compliance requirements than opening a proper merchant account.
3. New Revenue Source: Revenue generation is another benefit of being a payment facilitator, by performing the authorization process. 
4. Monetise payments and regulate them: It is possible to monetize your platform's transactions using a managed payfac solution. You can earn a percentage of the processing fees in addition to charging a price for your software, creating a recurring revenue stream.
5. Less risk for your business: Because you are only a sub-merchant, most risk is transferred to the master merchant, i.e payment facilitator. Furthermore, even though the fees are typically higher, you only pay when a transaction is completed. If your transaction volume is still low, this is a viable option.
6. PCI Compliance: Fortunately, this is handled for you when you use a payment facilitator. Your master merchant is responsible for ensuring that their platform is PCI compliant, which benefits you as a sub-merchant.
7. Better fraud control and security: It is the master merchant's responsibility to implement controls to detect and prevent fraud and high-risk financial activity. In case of a chargeback, it is your PayFac's responsibility to provide evidence to the card networks. As a result, you will have more peace of mind as a sub-merchant.
8. Ease of onboarding and underwriting: You cannot process merchant payments for your customers if you are not a Payment Facilitator. It would be best if you referred them to another Payment Facilitator or Payment Processor. However, you can process credit applications and underwrite your customers quickly if you are a payment facilitator.
9. Enables platform access: Payment facilitation allows you to offer payment collection methods to your clients without the hassle of setting up multiple payment gateways and other infrastructure.
10. Monitoring account activity: Payment facilitation processes, including customer activity, flag suspicious transactions. A customer, for example, who initiates fraudulent transactions from a group of IP addresses is automatically flagged, thereby protecting the merchant. Thanks to the secured compliance system, the payment facilitation model typically places controls and thresholds on each account based on historical activity. 
Conclusion
We hope the above-listed points give you valuable insights into the benefits of using a payment facilitation mode for your business, ensuring complete compliance and security for offering an enhanced user experience. You can contact NTT DATA Payments Services if you want more information regarding the payment model. 
FAQs
What to look for in a payment facilitator? 
A payment facilitator is a one-stop destination for your business requirements, from platform access and onboarding access to compliance and security measures. However, the below-listed factors need to be considered for better results: 
First, look for a company that both facilitates and processes payments.
The next step is ensuring they have the highest PCI compliance and protect your sensitive data.
It also helps to ask your PayFac the right questions about onboarding so you can get your payments up and running quickly.
Other essential factors include data analytics, API integration, and local support.
2. What is the distinction between an ISO and a payment facilitator?
An ISO is a payment processor that accepts payments from third parties. It handles merchant account setup and payment acceptance for a SaaS platform. On the other hand, payment facilitators provide their clients with sub-merchant accounts and process transactions on their behalf using PayFac's merchant account.
3. What are the requirements to begin accepting payments online?
To accept payments online, you'll need an e-commerce platform, a payment processor, a payment gateway, and at least one merchant account. Working with a full-service merchant services provider is the quickest way to get up and running with everything you need to begin accepting payments online.
NTT DATA Payments Services: We provide end-to-end payment acceptance services through online and offline channels with our vast range of products and solutions. NTT DATA Payment Services is powered by PCI DSS compliance and is encrypted, giving our customers a secure payment experience.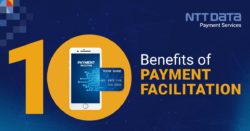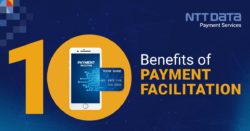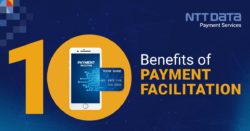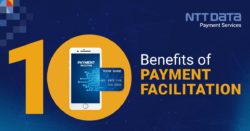 RSS Error: WP HTTP Error: A valid URL was not provided.
| Blog-
| Blog-