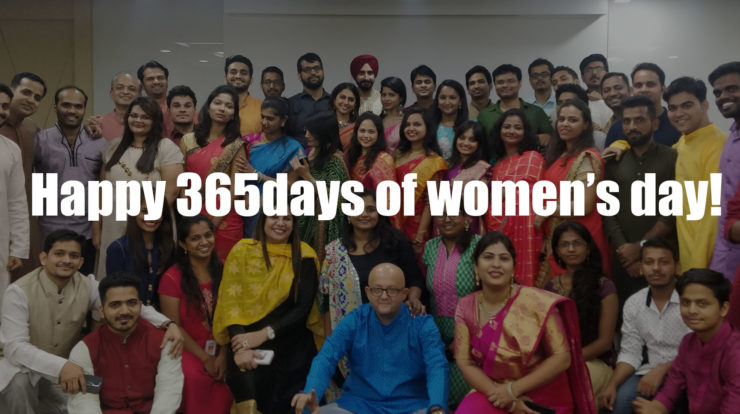 "Happy 365 days of women's day" greeted my Manager to the entire team.
We scream back in unison. By "we" here, I refer to both my male and female colleagues.
The day began with a bang like most other day but only with much brighter smiles and happy faces and this led me to writing this post!
Ever thought why we celebrate women's day and not merry make anything related to our counter parts! Some would conclude that I am anti- feminist, but no, I am just inquisitive and honestly, I love and relish all ideas and perks that comes with me, being associated as a woman.
Its so empowering to see women being one of the major contributors in the world and according to a recent survey, females have been taking huge strides as leaders, innovators, and money-earners. In fact, we are breaking new ground in every industry and closing, albeit slowly, the infamous wage-gap every year. We are leading the innovative and creative field and have been toping the charts when it comes to working at higher level in the management, setting-up enterprises or even running our own tiffin services.
Is this surge because we have let women loose or is it because our mindsets are changing, and we are letting women lead the run? Whatsoever the reason maybe, we as a community are benefiting!
And I strongly believe this surge is a major contributor because of the digitalization era that we are in today. With everything available at the click of a button- from paying your child's school fee or paying the house help or even buying journey tickets through UPI payments or scanning QR code at the railways and bus stations! And this is how massively digitalization has changed the entire space in and around us today!
"My 30 years old elder sister is a single mom and runs a girl's hostel all by herself" says my colleague in the women empowerment meeting today. And we all clap in unison. And this are instances which we should be celebrating instead of a single day and uplift and empower one another irrespective of date, gender, class and creed.
Why restrict our-self and our counterpart to one single day when we can all come together to celebrate each day as ONE and Equal! Let me know your thoughts in the comment section below.