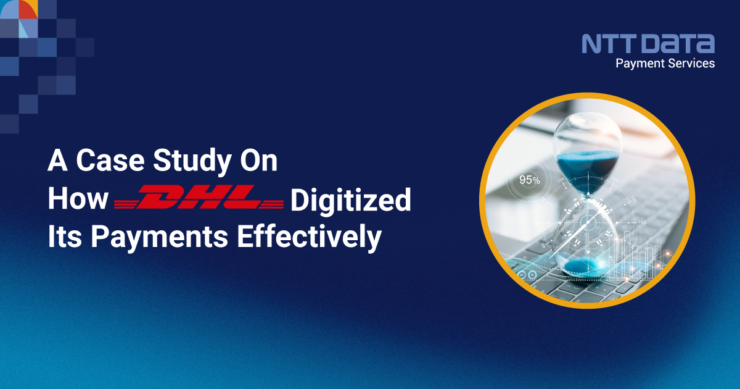 DHL International is a part of the German logistics corporation Deutsche Post DHL and was established in the United States as a courier, parcel, and express mail service. Germany's primary courier and package service, DHL Express, is the market leader for European parcel services.
DHL was established in San Francisco, California, in 1969. By the late 1970s, it had spread its services worldwide. The business launched an inter-island cargo service in the Hawaiian islands in 1979 under the moniker DHL Air Cargo.
Objective
To comprehend the payment issues that DHLin this case study had to deal with and how their association with NTT DATA Payment Services enhanced their payment acceptance while minimizing potential issues.
Aim
Deutsche Post DHL Group: The company will intensify its efforts to capitalize on the ongoing potential for profitable long-term growth in its core logistics businesses. Additionally, it will accelerate the Group's already-progressing digital transformation in the business divisions.
History
A few months after Neil Armstrong's historic first lunar stride, Adrian Dalsey, Larry Hillblom, and Robert Lynn in San Francisco take a decisive action that will have an impact on the world economy: Their last names' initials are represented by the three letters of the firm they created in 1969, DHL.
Their fresh business concept served as the foundation for a company that operates on a global scale. Initially, the company's founders flew freight documents by themselves from San Francisco to Honolulu. Due to the ability to start customs processing a ship's cargo before the shipment arrived, waiting times at the harbour were drastically reduced.
Customers gained significant time savings as a result. The beginning of DHL also marked the beginning of a new sector that could contribute massively to the economy. The international air express services led the transportation of documents and cargo papers by plane effortlessly.
As the local business became very profitable in the 1970s, DHL expanded internationally and surpassed FedEx and UPS as the third-largest courier.
One of the top logistics providers in the world, DHL has a large clientele of regular shippers, including individuals and businesses. DHL works in over 220 countries and territories. DHL Express, DHL Global Forwarding, DHL Freight, DHL Supply Chain, and DHL e-commerce are all under their service umbrella.
Domestic expansion
DHL rapidly widens its network. DHL started delivering services in Japan, Hong Kong, Singapore, and Australia in 1972 after growing in the Far East and the Pacific Rim (1971), then later in Europe (1974), Latin America (1977), and the Middle East, and Africa (1979).
DHL, along with the only other international courier firms at the time—Loomis and Purolator—became a global delivery service in the 1970s. Federal Express (FedEx), the only significant rival in the overnight business, didn't launch its first international service until 1981, when it expanded to Toronto, Ontario, Canada. DHL was the third-largest courier behind FedEx and UPS, although the domestic business was quite profitable.
Services of DHL International
The Bonn headquarters of Deutsche Post holds the international headquarters of DHL Express. The majority of DHL Express' operations are housed under DHL International GmbH.
FedEx, UPS, and national post carriers, including the United States Postal Service (USPS) and Royal Mail, are major rivals. However, DHL and the USPS have a limited collaboration that enables DHL to send small parcels using the USPS network under the name DHL Global Mail, now known as DHL eCommerce. In simple words, the company delivers 1.3 parcels per year by expanding its operations and increasing its contacts worldwide.
Major concerns / Pain Points of DHL
DHL needed a one-stop solution to streamline its daily operations and improve customer and merchant functionality. It had issues related to authentication of payments and troubleshooting.
DHL, which specializes in high-volume shipping, had to prepare for the looming inconvenience of manual payment collection, processing, and reconciliation. It resulted in a time-intensive administration of straightforward procedures, coordination issues, and ultimately a bad user experience.
To handle their extensive physical records, DHL offers an unmatched array of logistics services and products, including domestic and international parcel delivery, express, road, air, and ocean freight, as well as end-to-end supply chain management.
Although the logistics sector is about speed, efficiency, and precision, the company's apparent reliance on ineffective, rudimentary payment collecting and processing methods was in a field where these qualities should be prioritized. It leaves plenty of possibilities for payment fraud.
Paper-based and physical record-keeping and clumsy cash collection of payments made for domestic and international shipments
Decentralized payment processing hinders branch-level coordination between parties.
Managing a lot of cash thanks to the bulk servicing facility.
Risk of errors and mistreatment.
Time-consuming functioning of staff, taking a toll on general productivity.
Ineffective manual reconciliation and processing of funds received from customers.
Unsatisfactory client experience.
Solutions by NTT DATA Payment Services
DHL turned to NTT DATA Payment Services' solutions to address operational issues daily and make the changeover to a more unified payment platform. For the staff and the customers, digitizing invoicing, collection and payment processing, and reconciliation will result in a more streamlined and unified experience.
NTT DATA Payment Services incorporated its simple and straightforward Internet Payment Gateway services on DHL's portal, making the interface a comfortable process.
With its Payment Gateway facilities, NTT DATA Payment Services concentrated on integrating digital technology and improving customer experience to improve the process of payment processing, reconciliation, and record keeping and eliminate operational bottlenecks.
A customer can use DHL's e-Payment tool via the NTT DATA Payment Services portal after entering the necessary information. NTT DATA Payment Services' payment gateway offers a variety of digital payment options for customers to choose from.
It includes everything from Credit and Debit cards, Net banking, UPI, EMI, QR Code, and Wallet. These payment options have been carefully selected to make payments simple for customers while resulting in the effective payment collection for DHL.
The digital payment solutions NTT DATA Payment Services provide centralized payment collection and reconciliation among DHL's branches, streamlining bulk payment management. Along with that, NTT DATA Payment Services also provided fund settlement and split settlement as per DHL's requirements.
Real-time tracking and record keeping became simple with the comprehensive and robust Merchant console.
Effective management of transactions occurred with the help of a secured payment gateway that enhanced the user experience.
Benefits of using NTT DATA Payment Services' Solutions
We are increasing the efficiency of daily operations, reducing employee workloads, and saving time.
Attention to detail results in fewer opportunities for human error and better supply chain management.
Diversified qualitative benefits include reduced risk, improved security, record keeping and invoicing, and user experience.
Enabling customer retention by providing them payment options of their choice.
Customized fund settlements.
Value boosters to enhance payment experience.
Conclusion
Transitioning to NTT DATA Payment Services' digital solutions reduced total payment processing costs and significantly aided in completing associated administrative tasks of DHL.