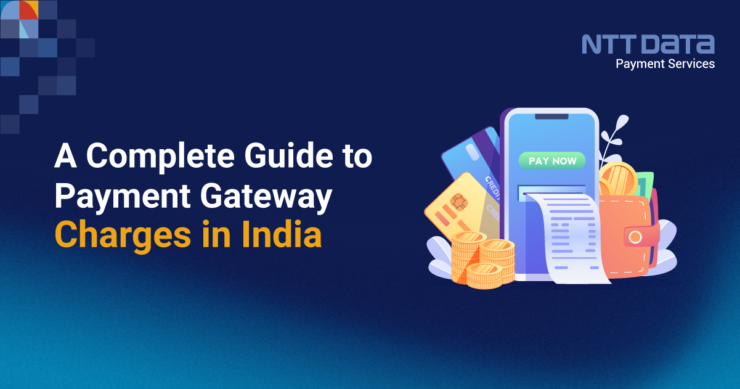 For online businesses to make the most out of running a business online, they must invest in setting up a payment gateway, which also requires an internet merchant account. An internet merchant account is a special bank account that facilitates smooth online transactions through a registered payment gateway. Transactions that happen through payment gateways are chargeable, and the cost has to be borne by the business owner making use of the merchant account and the payment gateway. It is essential for an online business to have an internet merchant account in order to have a registered payment gateway.
This blog will talk more about payment gateways and payment gateway charges in India. Keep reading!
What Is A Payment Gateway, And How Does It Work?
When a customer purchases goods or services online, they cannot make an online transaction in cash unless they choose Cash on Delivery (CoD). This means they must and can only make digital payments/online payments through credit or debit cards, net banking, UPI, QR, and more. These kinds of online transactions require a payment gateway to be processed.
There are two main parts to an online transaction that happens through a payment gateway
Issuing bank: Issuing bank is the account that issues the customer their credit or debit card. The funds required for the transaction will be transferred from this account to the business's internet merchant account.
Acquiring bank: The acquiring bank is the bank that is associated with the business's online merchant account. All funds from the online transactions are first deposited here by the payment processor before being further transferred to the business's source account.
Here's How a Payment Gateway Actually Works
1. The customer purchases a product online and fills in their payment details on the checkout page.
2. Once they click on 'Make Payment', the data they entered is immediately encrypted and sent to the payment processor via the payment gateway.
3. The encrypted transactional information is received by the issuing bank to begin processing the payment transaction.
4. If the issuing bank has enough funds to meet the requirements, then the transaction is approved.
5. Once the transaction is authorised, the encrypted information is reversed back to your online business, from the payment processor, via the payment gateway.
Payment gateways facilitate safe transactions that offer customers a sense of security. If you are registered with a payment gateway that is not reliable, you run the risk of losing customers, as they might not find it safe to key in their payment information.
Payment Gateway Charges And Their Breakdown
For every transaction that is processed through the payment gateway, the business owner has to pay a small fee. This fee is the payment gateway charge, and each payment gateway charges different rates. Payment gateways allow you to facilitate online payment transactions and help in bank settlements and managing refunds effectively.
Payment gateway charges are usually calculated as a percentage of the transaction amount and vary from one method of payment to another. To be able to accept online payments, you need to integrate a registered payment gateway into your website or app.
Payment Gateway Charges | The Breakdown
As mentioned earlier, payment gateways don't just facilitate online transactions but also help with proactive refunds and facilitate settlements to the bank in real-time. Therefore, you can assume that the payment gateway charges you pay are for all the services it offers your business. However, there are four main components that make up the payment gateway charges. Here's a breakdown of the same
Setup charges: This is a one-time charge that most payment gateway merchants charge businesses. This is mainly to cover the merchant onboarding expenses, including document verification, infrastructure, KYC (Know Your Customer) activities, and more.
Integration fee: Integration fee is a fee charged by payment gateway merchants for integrating their payment gateway product to their e-Commerce website or application. The integration fee differs for different platforms.
Annual maintenance charges: This is a fee charged yearly for maintenance purposes. Maintenance here includes software maintenance, customer support, upgrades, operations, and more. The annual maintenance charges depend on the payment modes and the transaction settlement plan you have chosen to go with.
Transaction or Merchant Discount Rate (TDR/MDR): Payment gateway merchants charge a small percentage of the transaction amount for every payment that happens through the payment gateway. TDR/MDR comprises three main charges – transaction charge, processing charge, and tax. This charge doesn't directly go into your payment partner's pocket but is divided between Issuing and Acquiring Banks, Card Schemes etc, before a very small percentage is then allotted to the Payment Service Provider.
These are the main payment gateway charges' components. Payment gateway charges are not consistent across gateway merchants and payment modes. A couple of factors affect payment gateway charges in India. The next section will discuss the same. Stay with us!
Factors That Affect Payment Gateway Charges In India
As discussed earlier, different payment gateway vendors charge different payment gateway fees, depending on the payment modes and the transaction settlement cycle. There are a few factors that affect payment gateway charges in India. Let's discuss a few in this section:
Integration type: Different businesses would require different kinds of integrations. The payment gateway pricing is different from one vendor to another. For example, web checkout integration of payment gateway costs much cheaper than other integration types for which vendors have to pay a lot higher!
Features: As discussed before, payment gateways don't just help with processing online transactions. Several gateway solutions come with a range of features, including refund management, auto-billing, real-time bank settlements, and more. The payment gateway charges in India depend on the add-ons you choose with your payment gateway subscription. 
Merchant Discount Rates: Merchant Discount Rate (MDR) is the percentage that you owe the payment service provider when your business accepts online payment and debit or credit card payments.
Interchange Rate: This is the amount card companies (NOT the bank that issues the card) charge the receiving bank for every transaction made through a credit card. 
Merchant account provider fee: This is a fee that is charged by the merchant account provider, in addition to the interchange fee. A merchant account is necessary for every business accepting online and card payments. The merchant account provider fee will differ based on the volume of transactions and the type of business you run. 
These are a few factors that affect the payment gateway charges in India. If you are looking to introduce electronic and online modes of payment in your business, you need to integrate a payment gateway to your website or application, along with an internet merchant account. 
If you are looking to get a payment gateway integrated, look no further than NTT DATA Payment Services' payment gateway. They offer top-notch payment acceptance solutions through their payment gateways and are highly economical. More about it in the coming section!
NTT DATA Payment Services Payment Gateway Charges
NTT DATA Payment Services offers end-to-end payment acceptance solutions for a hassle-free transactional experience for both online and offline businesses. Their online payment gateway product is one of the best in the industry, helping businesses efficiently manage and track the transactions that take place with the customer over the internet or through credit and debit cards. Being a veteran in the industry, NTT DATA Payment Services is one of the top payment service providers in Asia and supports 100+ payment modes for you to accept payments from your customers. Their clientele spans across multiple verticals, including Education, Government, Retail and E-commerce, Broking, Hospitality, Healthcare, Travel & Tourism, and Gaming.
Here are NTT DATA Payment Services' Payment Gateway Charges in India
| | |
| --- | --- |
| PRODUCT | RATES |
| Net Banking | 1.99% |
| Credit Card | 1.99% |
| International/MCC | 3.95% |
| Debit Card | 0.90% |
| UPI/GPAY | NIL + 1.99%* ERP |
| AMEX | 3.00% |
| Prepaid Wallets | 2.20% |
| EMI | 2.20% |
| | |
| --- | --- |
| PAYOUT | RATES |
| Penny drop | Rs. 2.85 |
| Less than INR 1,000 | Rs. 5.00 |
| Between INR 1,000 to INR 25,000 | Rs. 20.00 |
| Above INR 25000 | Rs. 40.00 |
Conclusion
If you are a physical or online business looking to register and integrate a payment gateway to your website or app, then NTT DATA Payment Services' payment gateway is the most ideal solution. They offer payment gateway services at the best prices, with a wide range of add-ons and features, including proactive customer support, comprehensive integration support, robust merchant dashboard and security. For more details about NTT DATA Payment Services payment gateway charges and solutions, visit their www.nttdatapay.com today!