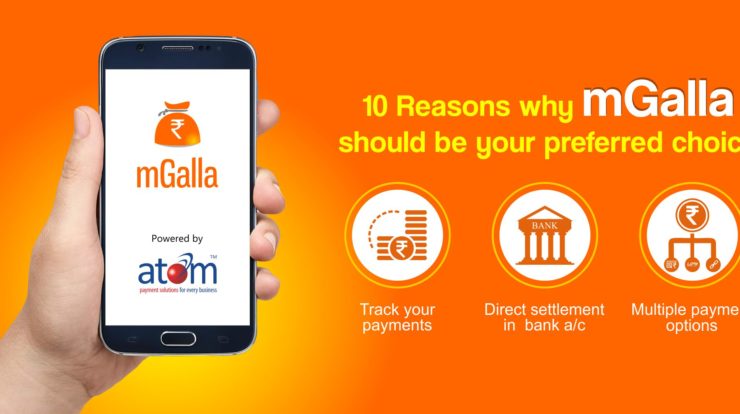 Are you a merchant who is constantly struggling with digital payments? The thought of running to and from bank scares you? Has the concept of cashless economy been a hard blow on your business? To eliminate these digital payment hassles that a small business merchant has to face on almost an everyday basis, Atom Technologies, an Omni-Channel payment solution provider has concocted mGalla, a digital payment application that fits the need of all businesses big or small.
'Galla' means 'Cash Counter' in Hindi Vernacular. The vision behind this application was to build such a retail ecosystem that replaces the physical 'Galla' with the mGalla. It is a carefully contrived application that solves every merchant's digital payment acceptance problems. Being such a payment solution that is accessible and effortless, mGalla provides any merchant a plethora of digital payment options on his fingertips. The basic intention behind carving out mGalla was to acquaint people, majorly merchants, with the norms and attributes of accepting digital form of payments.
Apart from providing innumerable payment options which are accessible with one click, mGalla makes sure that one's cashless transactions are seamless and secured.
There are infinite rationales that we could venture, as why mGalla is an all-merchant-friendly app but, let's stick with the top 10!
1. Quick and Easy to Register.
mGalla allows you to undergo the Sign Up process in four simple steps. Input your vital details as required by the application and get yourself registered in a matter of minutes.
2.  Multiple digital payment options supported by one application.
mGalla provides you a host of digital payment options on your fingertips. This includes, Link Based Payments, mPOS, UPI, Bharat QR and Aadhaar Pay. These innumerable digital payment options provide your customer the freedom of paying you as per they desire. Give your business the digital boost and help increase your sale by increasing your customer base.
3. No initial investment.
A free to use application providing you numerous payment options, mGalla requires no monetary investment when it comes to most of its payment options. Catering the smaller merchants, it allows you to request an mPOS or a Card Swipe device at a very reasonable, pocket-friendly investment.
4. Link with your existing bank account.
If you worry that you might need to rush to the bank to get yourself another account opened in order to operate and accept payments through mGalla, then relax. You can link your existing bank account with the application and start accepting digital payments instantly!
5. Receive payments directly in your bank account.
Cash Payments make you run to the bank every now and then. Start accepting digital payments from the mGalla Application and get paid directly in your bank account.
6. No Paperwork required. Online KYC.
With mGalla we promise you the ease of getting yourself registered in four simple steps. You can start accepting digital payments in a matter of minutes as we do not require physical documentation. Simply fill our online KYC (Know Your Customer) and get going with the digital payments.
7. Highly Secured
Your security is our priority and so we make sure that all the crucial bank and transaction details are encrypted. Atom is PCI DSS version 3.2 certified which is the highest level security available to a payment gateway in India. We are also 256 bit SSL encrypted so that you can just concentrate on elaborating your business and can leave your security related worries with us.
8. Keep a track of your payments.
Maintaining a book and constantly going through it to see whether you've received your payment from a certain customer is a tedious and time consuming task. mGalla notifies you about both your outstanding and received payments amount and can be accessed by a single click. You can even gently remind your customer to make the outstanding payment to you by simple sending them a payment request on Whatsapp or SMS.
9. User Friendly Interface.
mGalla is an extremely easy to use application with a simple and interactive user interface. With its straightforward functioning, even the least tech-savvy individual can operate it single-handedly.
10. Customer doesn't require any app.
Let your customer pay without the hassle of downloading a different application every time. With mGalla your customer can pay you digitally without being bound to an application.